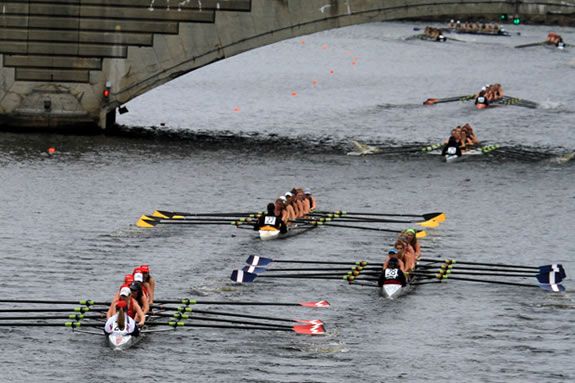 The Head of the Charles Regatta is one of the world's largest rowing events. Watch rowing teams compete from all over the country and take the sights of autumn along the banks of the Charles River in Cambridge.
Fans and spectators flock to the riverbanks every year to watch male and female rowers compete in 61 nail-biting events.
This year, the Regatta will be launching the release of its very own book, chronicling the first 50 years of the race, which features excerpts from famous competitors and captivating photography, along with stories that will have every reader turning the pages for more.
In addition to the exhilarating rowing action at the 50th anniversary, the Regatta offers a number of family-friendly activities for all ages. Along the three-mile course, spectators can celebrate at the Regatta's rowing and fitness expo, take in all the action at the boisterous Reunion Village and indulge in some of New England's best fare from local chefs and restaurants.
Regatta includes races for youths, veterans and lightweights. Similar in tradition to races held in England, 'Head' races, a class of regattas, are generally three miles long. Boats race against each other and the clock, starting sequentially approximately fifteen seconds apart.
Winners of each race receive the honorary title of 'Head of the River' or, in this case, 'Head Of The Charles.' Each year, the Head Of The Charles Regatta attracts over 300,000 spectators.
View the full schedule of race & events, interactive maps, complete Regatta history & more.
Best Viewing Areas:
Best Viewing areas Memorial Drive between JFK Street and BU Boathouse.
Regatta History
The Head of the Charles, the world's largest two-day rowing event, was first held on October 16, 1965. Over the years, the Regatta has grown tremendously. Today athletes from around the world compete in 19 different race events.
 
When:
Saturday, October 19, 2019
Sunday, October 20, 2019