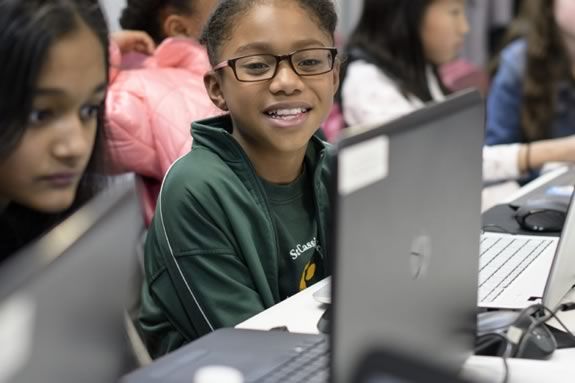 Interested in building a website or cool app? Want to work as a team and build a project you care about? Join our new Girls Who Code Club. This club is free for teens in grades 6-12. No coding experience necessary. Just bring your commitment to trying something new. Questions? Contact Meghan at karasin@noblenet.org.
Girls Who Code offers free after-school programs for 3rd-5th and 6th-12th grade girls to join our sisterhood of supportive peers and role models using computer science to change the world. These are our core values:
Sisterhood

Join a safe and supportive environment of peers and role models where girls learn to see themselves as computer scientists.

Code

Learn the concepts of loops, variables, conditionals and functions that form the basis for all programming languages.

Impact

Work in teams to design a computer science impact project that solves real world problems the girls care about.
When:
Wednesdays through December 18, 2019 3:30-4:45pm