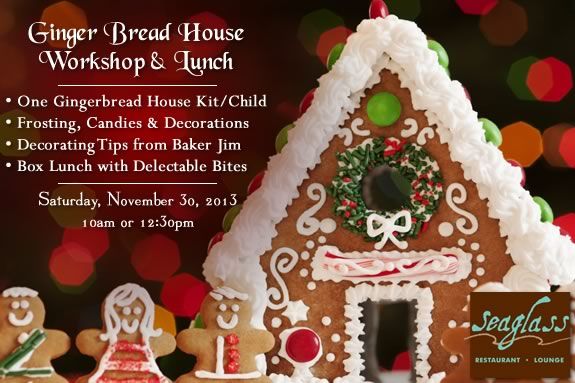 Bring home your very own Gingerbread House creation!  Creative chefs will love the endless decorating options—from frosted candy roofs and pretzel picket fences to tootsie roll campfires and marshmallow snowmen. Enjoy lunch, cheerful holiday tunes and tips from Baker Jim!
There will be two seatings, 10am and 1pm
Event Includes:
One Gingerbread House and base per child
Array of festive assorted holiday candies and frosting aplenty
Decorating tips from our giant Gingerbread Village Creator, Baker Jim
Box Lunch with Delectable Bites
Call or email for more information or to reserve a spot.
When:
Saturday, November 30, 2013 10am or 1pm
Prices:
$29.95 per child
$19.95 per adult