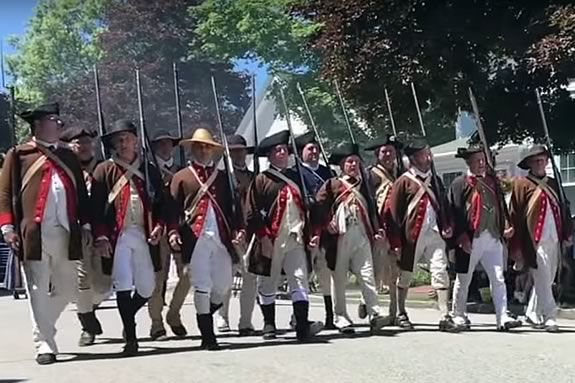 Manchester's annual salute to America is a wonderful tradition, complete with stirring music, precision marching bands, imaginative home made floats, antique cars, and just about everything else that represents the pride and patriotism we all share for our country. Simply stated, Manchester's Fourth of July Celebration is small town America at its very best! The celebration kicks off with a concert and fireworks on July 3rd at Singing Beach followed by a parade on the 4th.
July 4th by the Sea Montage
The parade will line up on Lincoln Street between Memorial Elementary School and the Manchester Essex Regional High School. The parade will travel up Vine Street, crossing over Norwood Ave and continuing up Vine Street to School Street. The parade will take a right onto School Street and proceed up to Pleasant Street. From here the parade will take a left onto Pleasant Street, then a left on to Pine Street. It will go down Pine Street and take the left onto Central Street where it will go up Union Street to Norwood Ave and end at Coach Field Playground.
Sunday, July 3, 2022 6-8pm | Concert and Fireworks at Singing Beach
Monday, July 4, 2022 10am-12:15pm | Annual 4th of July Parade*
*Parade is rain or shine
When:
Monday, July 4, 2022 10am-12:30pm