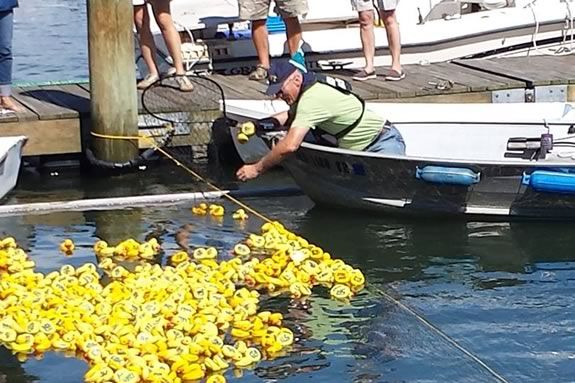 The 26th Annual "Rubber Duck Race" hosted by the Danvers Kiwanis raises money that benefits scholarship funds for local college students. THE RACE is  rain or shine, and hundreds of Rubber Ducks will be dumped into the Porter River adjacent to Popes Landing. The drama escalates, competition has begun. As the lead duck streaks towards the finish line, "Who will be the WINNER?"  Join us for pre-race family-fun festivities starting at 9:00 am.
TO ENTER:
Visit our web site www.danverskiwanis.org
Adopt a rubber duck for $5.00
Improve your chance for winning by adopting:

6 ducks for $25.00 or a family of 13 ducks for $50.00

Your duck number assignments will be mailed to you before the race.
When:
Saturday, September 28, 2019 12:30-1:30pm