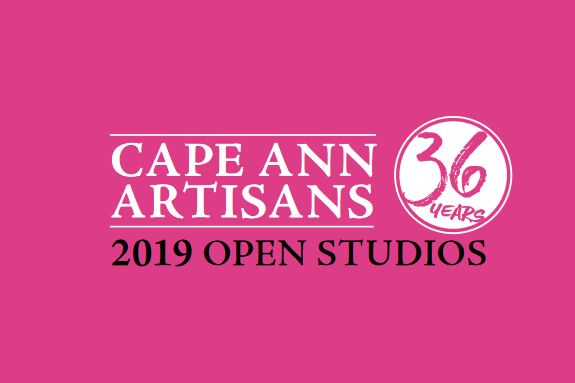 Cape Ann Artisans are among the most established artists currently living and working in Gloucester and Rockport. Some studios are centrally located while many are tucked away among Cape Ann's distinctive and diverse neighborhoods.
We invite the curious and adventuresome art-lovers to visit us off-season for a deep dive into our creative life on Cape Ann. The tour is free and self-guided.
Professionally printed brochures containing the studio descriptions and the tour map are available at all studios, the Cape Ann Chamber of Commerce, the Rockport Information Booth on Rte 127, and many other public venues; meanwhile, at home you can download and print the PDF to plan your trip. Print it out, mark it up, or just keep it on your portable device (smartphone, tablet,…) for travel.  As you approach each artisan studio on the road a bright, magenta Studio Tour banner will mark the studio location.
Beyond the biannual Open Studio Tours, individual artisans are engaged and active in Cape Ann's thriving arts community; during non-tour times many can be found working in their studios by appointment (look for the*next to each artisan's info for those open year round) or at other events in the area.
Partners
We would like to thank our partnering businesses for their support of Cape Ann Artisans; please visit and support them on your tour around Cape Ann.
Northshore Magazine
The Best of the North Shore
www.nshoremag.com
Cape Ann Savings Bank
Local people, local banking, local decision making since 1846
888-283-2272
capeannsavings.bank
Institution For SavingsInstitution for Savings
Our vision is to positively affect the lives of every person, business, and organization within the communities we serve.
978-462-3106
institutionforsavings.com/locations-and-hours
Beauport Hospitality Group is a collective of upscale, independent, full- service hotels, restaurants, cruise lines and event facilities with our mission rooted in our people and community. BeauportHospitalityGroup.com
Beauport Hotel Gloucester and 1606 at Beauport Restaurant & Bar
55 Commercial Street, Gloucester
978-282-0008
beauporthotel.com
Seaport Grille 978.282.9799 and Beauport Cruiselines 978.865.3210
6 Rowe Square, Gloucester
Places to Stay
The Lantana House
B&B. Fabulous location. Mere steps to shops, galleries, beaches, and dining. On premises parking. Friendly, knowledgeable owners.
22 Broadway, Rockport
978-546-3535
thelantanahouse.com
Linden Tree Inn
A Victorian B&B in Rockport, open all year; come experience our Anglo-American hospitality.
26 King Street, Rockport
978-546-2494
lindentreeinn.com
Seafarer Inn
Ocean view from every room
50 Marmion Way, Rockport
978-546-6248
seafarer-inn.com
The Tuck Inn Bed & Breakfast
17 High Street, Rockport
800-789-7260
tuckinn.com
The Vista Motel
22 Thatcher Rd., Gloucester
978-281-3410
vistamotel.com
Places to Eat
The Azorean Restaurant & Bar
The "Seafood King" of Gloucester
133 Washington St., Gloucester
978-283-5500
azoreanrestaurant.com
Common Crow Natural Market
200 Eastern Avenue, Gloucester
978-283-1665
commoncrow.com
Latitude 43
Waterfront dining, four Chris Williams sculptures
25 Rogers St., Gloucester
978-281-0223
latfortythree.com
Willow Rest
1 Holly St., Gloucester
978-283-2417
willowrest.com
Arts
Artist & Craftsman Supply
Source of quality art materials and sound advice for the artist and craftsman
751 Broadway (Rte. 1 S), Saugus, MA
781-233-3306
artistcraftsman.com
Cape Ann Plein Air
Plein Air Artists where you can watch 40 award winning artists painting outdoors on Cape Ann!
October 6th through 14th.
CapeAnnPleinAir.com
North Shore Arts Association
Exhibiting, promoting and preserving the fine arts since 1922
11 Pirates Lane, Gloucester
978-283-1857
nsarts.org
Northeast Art Workshops and Retreats
19 Kettle Cove Lane, Building C7, Gloucester
978-729-4970
northeastartworkshops.com
The Rockport Art Association and Museum
The RAA is one of the oldest and most active art organizations in the country, with a history that spans 96 years
12 Main St., Rockport
978-546-6604
rockportartassn.org
Other Friends
Araneo Landworks
Complete site construction services on Cape Ann
17 Kondelin Road, Gloucester
978-265-4340 | Matt@araneolandworks.com
araneolandworks.com
Beauport Financial Services
Protecting Wealth and Creating Income Plans for Retirees
3 Heritage Way, Ste. 2, Gloucester
978-283-0748
http://beauportfinancial.com
Carroll K. Steele Insurance
Synonymous with insurance since 1867
32 Pleasant St., Gloucester
978-283-5100
cksteele.com
Geoffrey Richon Company, General Contractor
19 Duncan Street, Gloucester
978-283-6063
ghrichon.com
smallfish-design
Web design for us small fishes
477 Washington St., Gloucester
978-283-4771
smallfish-design.com
Karen Shea Design
Graphic design services
16 Lovett St
Beverly, MA 01915
978-922-3452
When:
October 12–14 from 10 am to 5pm