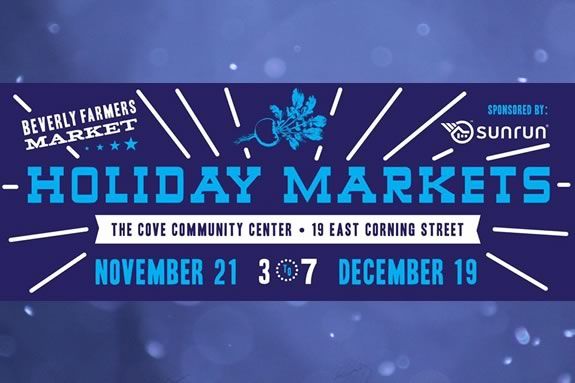 Join Beverly Farmers' Market for a special holiday market! Celebrate winter with special farm fresh food, locally made gifts, and great community. This is the last market of 2016! You can expect to find winter squashes, root veggies, apples, cider, garlic, cabbage, cauliflower, eggs, cheese, beef products, maple syrup, and honey and bee products from our farmers. There will also be locally made specialty foods like artisan bread, pickles, handmade chocolates, almond butter, herbal teas, and hot soups. This market will also feature art like handmade ceramics and centerpieces.
Beverly Farmers' Market's mission is to provide an attractive and well organized setting for local farmers, producers of local food, and local artists to sell their products on a regular basis in downtown Beverly.
The Farmers' Market aims to support local agriculture while making healthy food available to members of the Beverly community at affordable prices, promote sustainable living practices, and foster community development.
When:
Monday, December 19, 2016 3-7 PM