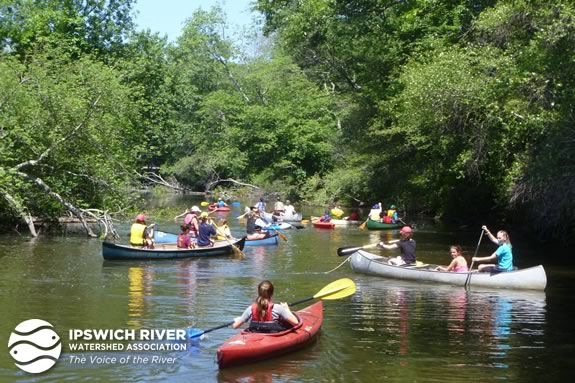 This annual paddle series is great for paddlers of all ages and skill levels. We'll go over the basics of canoeing and kayaking before taking a leisurely paddle from our Riverbend dock. Don't have a boat? Reserve one from our fleet of boats when you RSVP. Spaces are limited.
Join us for a relaxed, fun, and family-friendly paddle from our headquarters at Riverbend, right on the river in Ipswich. It is perfect for all ages and levels of paddling experience. You will have the opportunity to learn basic paddling skills, from the proper way to hold a kayak paddle to different ways to steer your canoe. You will enjoy a leisurely evening paddle down the river and experience the beauty of the river's wildness and maybe even see some of our resident wildlife, from beavers to turtles to the many birds who call the river home. We have a limited number of canoes and kayaks that you may use for free, but you may also bring your own. Please let us know if you need a boat and which type you prefer.
Scheduling Note:
This event is weather dependent and will be cancelled in the event of heavy rain, thunder or strong winds. End time is dependent on boat loading and unloading time and the height and speed of the water.
Special Instructions:
Dress appropriate to the weather with shoes that can get wet.
Bring hats, sunblock, and water bottles.
Reservations Required.

RSVP to Rachel at rsvp@ipswichriver.org or call 978-412-8200.
If you need to borrow a canoe or kayak please let us know.
When:
Tuesday, August 6, 2019 5:30-8pm