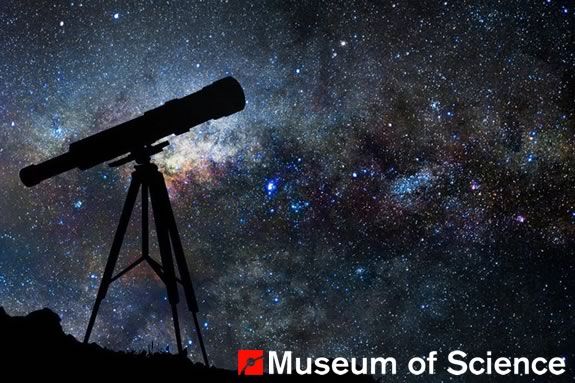 Tucked away on the roof of the Museum's parking garage, the Gilliland Observatory is a wonderful resource for our starry-eyed public. On clear nights, you can view stars, planets, the Moon, and other astronomical phenomena. On cloudy nights, tour the inside of the Observatory, and participate in astronomy-related activities run by our knowledgeable staff. Astronomy After Hours is the perfect place to kick off your weekend with your family.
Weather permitting, the observatory is open every Friday April - October:
April: 8:00 -10:00 pm
May, June, July, and August: 8:30 -10:30 pm
September: 8:00 – 10:00 pm
October: 7:30 – 9:30 pm
Please call the Gilliland Observatory hotline, 617-589-0267 and select option number 2, which is updated at 5:30 p.m. on Friday nights with information about that night's observing session. You can also check the museum's Twitter feed.  The hotline also lists general information about the observatory, what objects can be observed in the current night sky, and how to contact an observatory staff person.
Fans of the Museum of Science on Facebook and Twitter can also get occasional updates on the observatory and other starry events.
Admittance is free thanks to the generosity of the Lowell Institute (parking charges still apply).
When:
Friday Evenings April through October (Weather Permitting)
Prices:
FREE (Must pay for parking though)