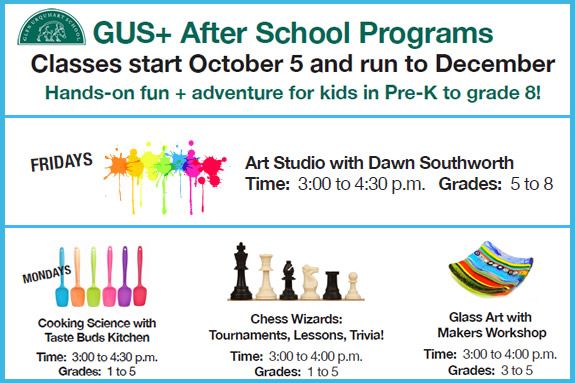 GUS+ After School classes promise hands-on learning and fun!
Registration is OPEN! Join us for GUS+ After School! Held on our campus in Beverly Farms, classes are open to the greater community and begin each day at 3:00 p.m.
MONDAYS - 8 Weeks, Starting 10/15 to 12/12 (no class 11/26)
Cooking Science with Taste Buds Kitchen - Grades 1 to 5, 3:00 to 4:30 p.m. 
Calling all chef detectives! How does dough rise? What makes ice cream freeze? Taste Buds Kitchen presents an action filled cooking class built around the natural phenomena that occur in cooking. Your budding chef will be kept on their toes as they uncover the magic and science in popular recipes that everyone will like. From Handmade Gnocchi to Cinnamon Sticky Buns and all natural Beet Whoopee Pies, grab your creativity and let's get cooking! Aprons, a cooking journal and custom recipe book are included for all chefs. $250
Chess Wizards - Grades 1 to 5, 3:00 to 4:00 p.m.
Enter into the magical and exciting world of chess with Chess Wizards! You will participate in epic chess games, fun and interactive lessons, tournaments, team matches, trivia, and more! Our specialized classes are a blast for all ages. $210
"Our daughter loved coming to Chess Wizards each week at GUS! Instructors in costumes and weekly challenges made it fun and she improved her skills!" - GUS+ Parent
Glass Art with Makers Workshop - Grades 3 to 5, 3:00 to 4:00 p.m.
Students will immerse themselves in the process of fused glass in this exciting intensive workshop lead by a Makers Workshop artisan! Introductory projects familiarize students with the basics of working with cold glass to produce kiln fired tiles, keychains, and pendants. The basics lead into learning to cut glass and use more complex techniques to create projects like dishes and wind chimes. $250
TUESDAYS - 8 Weeks, Starting 10/9 to 12/11 (no class on 11/6, 11/20) REGISTER TODAY!
Jazz-Hop with Mini Movers Studio - Grades Pre-K to 1, 3:00 to 4:00 p.m.
Jazz-Hop is a fun and funky combination dance class of Jazz and Hip Hop! Movers will have fun learning about the technique and terminology of these two energetic styles. Choreography will be taught in addition to young dancers having the opportunity to explore Jazz-Hop with their own movement, through improv freeze dance and creation of short dances with their peers.  Mini Movers Studio is dedicated to inspiring movement and fun, while instilling confidence and creativity in little movers! $200
Nature Adventures with Kestrel Educational Adventures - Grades 2 to 5, 3:00 to 4:00 p.m.
As a nature adventurer, you will learn to explore and survive in the outdoors. We will set up a "wild station" in the woods and practice outdoor survival skills, including making a fire, staying warm, and finding shelter, food, and water in the wild. Then we will set out to learn as much as we can about the wildlife of Beverly, tracking animals, viewing birds with binoculars, and catching frogs and salamanders to observe. At the end of the season, you will know lots about surviving and wildlife and can take your friends and families on nature adventures. $200
"After a day inside his classroom, our son was so happy to come to GUS and get outside with Jessica!" - GUS+ Parent
WEDNESDAYS - 8 Weeks, Starting 10/17 to 12/12 (no class on 11/21) REGISTER TODAY!
Sewing with Seamsters Local Sewing Studio - Grades 1 to 4, 3:00 to 4:00 p.m.  CLASS IS FULL
In this fun creative class you'll learn to sew using the sewing machine, and gain new skills in basic design principles, pattern tracing, fabric cutting, hand sewing, and other sewing related activities used to design and construct sewing based projects. You'll be amazed at what you can create! Students work at their own pace on their own projects yet are encouraged to help one another master skills and support each others creativity in design. Projects may include stuffed animals, bags, applique pillows, room decoration, fashion accessories and more! $235
Medieval Castle Making with Makers Workshop - Pre-K to Grade 1, 3:00 to 4:00 p.m.
In this exciting workshop, students will work over the weeks on a large three-dimensional medieval castle that can be taken home and used as a play set complete with furniture and figurines. Students will get the chance to explore working with paint, fabric, ceramics, decoupage, and more! $250
THURSDAYS - 8 Weeks, Starting 10/18 to 12/13 (no class 11/22) REGISTER TODAY!
Fitness Fun with Sarah Kelly from Endicott College - Grades 2 to 5, 3:00 to 4:00 p.m.
Enjoy a variety of fun activities including fitness challenges, circuits, cardio fun, stretching, ending each class with an engaging outdoor group game. $160
Yoga + Meditation with Elliott Buck - Grades 1 to 5, 3:00 to 4:00 p.m.
Come join Elliott Buck for a fun-filled yoga and mindfulness class. This class is designed to help kids relax, reduce stress, laugh, develop self-confidence, improve flexibility, and challenge themselves after school. Kids will learn breathing exercises, calming techniques, and challenging poses. They will also develop the beginning foundation for a healthy mind, body, and spirit. $160
"My daughter loves yoga and meditation with Ms. Buck and begs to sign up every time it's offered.  I love that it offers a relaxed and safe environment for exploring mindfulness activities and gives her a chance to shift gears after a busy day.  She loves teaching us new poses and strategies for calming the mind and has us all practicing after dinner!" - GUS+ Parent
FRIDAYS - 8 Weeks, Starting 10/5 to 12/7 (no class 11/9, 11/23, 12/14)  REGISTER TODAY!
Art Studio Workshop with Dawn Southworth - Grades 5 to 8, 3:00 to 4:30 p.m.
The aim of the art workshop is to strengthen each student's visual vocabulary and abilities. A wide variety of disciplines will be offered, including painting, drawing, assemblage, and mixed media. Students will help create the curriculum, according to their needs and goals, as they push their ideas beyond the expected and complete projects for inclusion in an art portfolio. Students will be encouraged to work together, problem-solve, and communicate ideas, thoughts, and feelings in a nurturing multidisciplinary studio environment, sharpening both their critical and interpersonal skills. $250
Registration is online and the registration deadline is one week before the program begins. Download the flyer. Maximum class size is 12 students (minimum of 6). Register early to secure your space! An email will be sent out one week before the class starts with more details. Questions? Please contact Nancy Hartmann, Director of Auxiliary Programs, at nhartmann@gus.org (link sends e-mail) or 978-927-1064 x 131.
When:
October 15 to December 14, 2018