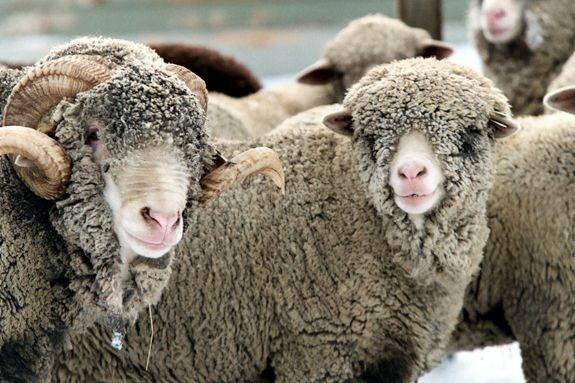 Back in the day of sophisticated New England, folks wove their own scarves and knitted hats, gloves and sweaters from real wool shorn from bleating sheep by "Renaissance men" like Kevin Ford and Andy Rice. That vanished era of self-reliance will return Saturday, April 29, 2017 to Gore Place for the 30th Annual Sheep Shearing Festival when visitors can learn some everyday skills that flourished when the Federal-style mansion was built in 1806.
Rice and Ford will trim about 20 "woolies" using contemporary and traditional methods with some practices dating back to the ancient Egyptians.
Running from 10am to 5pm, the outdoor farm festival offers sheep shearing and herding dogs, artisans and craft workers, live music and dancing, gardening activities and an 18th century military encampment pitched by Col. Bailey's 2nd Mass. Regiment.
Across the 45-acre site, visitors can enjoy the Commonwealth Morris Men and join them for a maypole dance. Live music will be provided by the Moody Street String Band and the Merrimack Valley Bluegrass. More than 84 crafters will be showing and selling their wares and the Waltham Garden Club will offer kids free gardening lessons like "Plant-a-seed".
Last year's festival was the largest and most diverse since it began in 1987. There's going to be something for everybody - crafts, music, dance or our sheep shearers - for everyone.
Sheep Shearing Demos - Kevin Ford & Andy Rice
Fiber Tent I Fiber arts, yarns, wools etc. for sale
Fiber Tent II Alpacas, weaving, wool dyeing, flax processing
Col. Bailey's 2nd MA Regiment Encampment
Crafts Fair with 80+ crafters
When:
Saturday, April 29, 2017 from 10 a.m. - 5 p.m. rain or shine
Prices:
$20 per person
Free for children 12 and under with adult