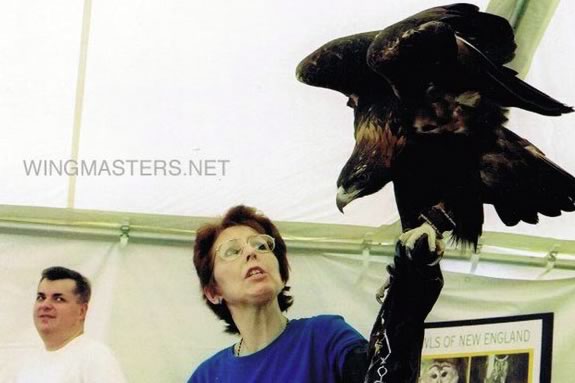 WINGMASTERS is a partnership of two people dedicated to increasing public understanding and appreciation of North American birds of prey. Julie Anne Collier and Jim Parks are both licensed raptor rehabilitators based in Massachusetts. Together they care for injured birds of prey.
Most of the birds they rehabilitate can ultimately be released back into the wild, but in some cases the birds are left permanently handicapped. Julie and Jim are further licensed to provide a home for these nonreleasable raptors, and to use them for educational programs. Since 1994 WINGMASTERS has presented over 5000 programs at schools, libraries and museums throughout New England.
WINGMASTERS offers 6 different education programs that will travel to you. All 6 programs incorporate live birds of prey that are held under our Rehabilitation and Education permits. They are handled only by the licensed presenter, and are never flown for demonstration. Our presentations are designed for ages 6 and up and are typically 45 to 60 minutes in length. Please contact us for pricing and availability.
Location
Wingmasters
Leverett,
MA
01054
Coordinates: 42° 27' 4.896" N, 72° 30' 32.598" W