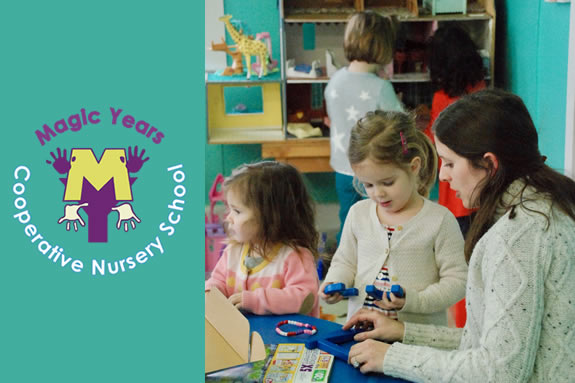 Since Wendy Sullivan has taken over as director of Magic Years Preschool, a lot has changed. Together, she and Ms. Heather are making Magic Years everything we, as parents, hope it to be for our little ones. The overall environment has become calm and organized, making the roles for all involved much more manageable.
Come inside our school at any time and you'll hear Miss Wendy promoting kindness in the classrooms and putting a strong focus on positive behavior. She'll be teaching her students to be good friends to one another. She keeps an open mind and is always focused on finding what works for each child. You'll see Ms. Heather incorporating thoughtful lesson plans that are geared toward kindergarten readiness, while making sure students are moving, getting their hands on materials and being fully engaged.
They have been able to update the school model and make it sustainable to keep up with the changing times. This is crucial, especially today, where parents are becoming busier with work expectations and hectic schedules for the whole family. We are still a cooperative, which allows parents insight and a say in what is happening at their child's school, but with more manageable expectations. What used to require 3 to 4 days a month as parent helper, now is once every 6 weeks. Parents look forward to spending time in the classroom. They are able to experience their child's daily activities and witness friendships bloom.
An integral part of the week is experiencing movement and music with special activities like music with Mr. Darren and yoga with Miss Suzanne.
Parents are thrilled with the other exciting changes that have taken place. School is now open five days a week, enrollment starts at 2.9 years of age, we offer drop-in options so you can add a morning or afternoon as needed and themed monthly special afternoon adventures. Our cooperative is excited to show off our newly installed carpets and warmer, cozier spaces for the children to rest, read, play, and learn.
If you would like to come and experience what Magic Years is all about, please join us Monday March 6th from 11-12 for our open house or contact Josefina O'Neil at membershipmagicyears@gmail.com to schedule a time to come for a tour.
"These young years are so short-lived and Magic Years gives you the opportunity to really experience them with your children. Once your kids go off to kindergarten and you are not in the classroom, you really do miss it." – Shelley Delaney alumni parent