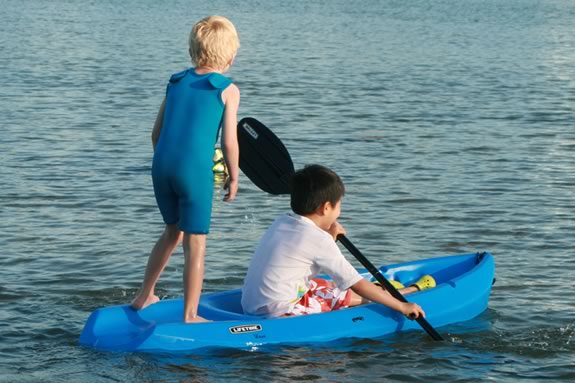 We live near a tidal cove that is great for our four year old to play in especially at mid tide when the water is about as deep as a wading pool. It's allowed 'B' to become comfortable with the water as we have done water activities like swimming, jumping in waves and even kayaking together.  My kayak has a baby seat that he has used in the past, but his sister is ready to start using that spot, and it was time for 'B' to have his own kayak.
I looked around for a kayak that would help get him started, and even though he is a tall 4 year old, most of the kayaks I looked at were just too big for him.  Then our neighbor brought home the perfect solution for her six year old - the . We saw how quickly her son took to it and ran out to buy our own.
The is the perfect learning platform for a novice kayak.  It's extremely bouyant, and can handle a paddler with a passenger no problem. The kayak is very stable and small children seem to be right at home as they learn to maneuver and paddle. It's actually so stable that B has no problem standing on it while it floats, and I can see him using it as a SUP board before the Summer is over!
The Wave will float in less than 6" of water, which makes it perfect for learning kayaking skills in very shallow water.  If your child is not worried about tipping over or falling into deep water while they are learning, they'll be more accepting to being taught and less likely to panic. 'B' found that falling in is pretty fun when the water is shallow!
The most innovative feature of the is that it is designed to make it as easy as possible to board the kayak from behind. 'B' had no problem getting on from behind without a life jacket and struggled a little when he was wearing one.  He eventually figured out a way to do it easily wearing a life jacket, which sets us free to explore deeper waters.  If he feels comfortable knowing that he can get back on if he falls off, he'll be free to explore and discovery because of his new vehicle.
A boy who's family rented a home next to ours for a weekly rental befriended 'B' for the week so they used the Wave together. He was able to be under way and paddling around within a matter of minutes, and before we knew it they were having adventures together as one paddled and the other jumped off the back of the kayak.
We picked ours up at Dick's sporting goods in Danvers for $99 in early June, but have learned that the price has recently increased to $119.  The package included the paddle, so it's pretty short money for the amount of fun we'll get out of it.  We also found this at amazon for $149, and that includes free shipping if you choose that option.  Check out the Amazon page here: .
This kayak is built from high-density polyethylene plastic, which makes it light enough for my 4 year old to drag, and ensures that it is durable enough to to last through my next child using it to learn on.