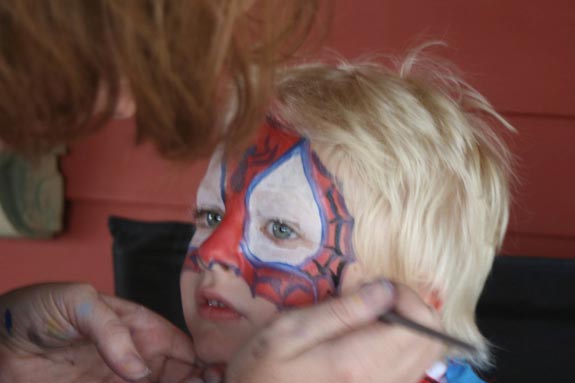 Whether it be superheroes or ferocious beasts, butterfly princesses or dazzling flower crowns, kids love getting their faces painted.  Imagine That Face Painting's Theresa Flaherty combines her creative passion and her love of children with beautiful, high-quality face painting.  With years of experience and hundreds of positive custom compliments, Theresa offers the best face painting for birthday parties, festivals and fairs, holiday celebrations, school, community and private events.
Theresa uses professional grade paint and has studied under Ginny Colangelo, Marcela Murad and Heather Banks (of SillyFarms).
Theresa is a truly exceptional artist and beyond that she has awesome energy and an ability to connect with children and adults!!
In addition to working with families on behalf of birthday's Theresa has worked with:
The Boys and Girls Club of Watertown (several events)
Irish Heritage Festival - Dorchester (October 2011)
Big Brothers, Big Sisters of Massachusetts Bay (Holiday Fest; December 2011)
Boston Ballet (Holiday/Kids Week; December 2011)
St. Mary's Women and Children's Center (several events 2011/2012)
Relay for Life (private fundraiser, 2012)
Relay for Life (Medway/Millis 2012)
Brookline Day (September 2012)