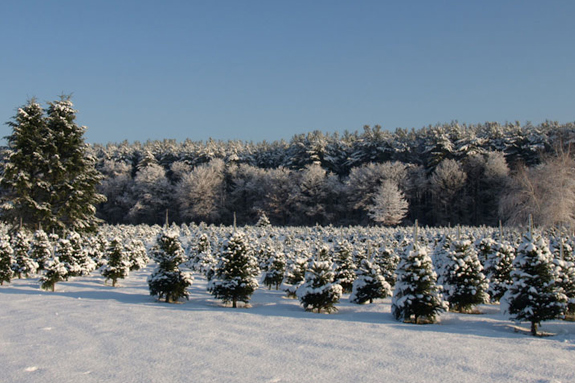 The weekend after Thanksgiving we begin to get into the holiday swing of things. I like to hang wreaths and lights and go to one of the local tree farms and select our Christmas tree. Cutting your own tree is the real deal - you knwo where your tree comes from, and you are supporting a local farmer.
A lot of the farms offer more of an experience for you tree cutting excursion with opportunities for sliegh/hay rides and hot cocoa around the fire.  You may be allowed to cut your own, but some farms want you to just pick the tree and the will cut it for you for safety reasons. So pack an old blanket for the car roof (think sap on your paint job), and head to one-of-the-many local tree farms north of Boston, where you can choose a freshly pre-cut tree, or go for the truly authentic experience of walking the landscape, selecting and sawing your very own Christmas tree.
Below find a great list of locations, plus some tips for fool-proofing your trip:
Call before you go - check the farm of your destination tree cutting hours, tree availability and for local weather conditions if necessary.
Some farms limit the amount of trees they sell in a season, and shut down without any web site updates, so don't travel to the farm if you can't reach them by telephone.
Wear appropriate clothing and footwear and bring a saw & rope/bungee cord to tie down your tree.
Many farms are gracious enough to allow family pets on leashes - ask when you call.
When cutting your own tree, cut as close to the ground as possible (you can always trim excess stump later.)  Place your tree in warm water as soon as it arrives home.  Then, cut an additional 1/4" off the stump before placing the tree in a stand.  Be sure your tree stump is always submerged in water, or you'll have dried pine needles everywhere!
If you have your heart set on a particular variety of tree,  ask what type the farm grows when you call them.
Pick your own Christmas Tree on the North Shore:
North Andover
Peabody
Salisbury
West Newbury
Note: Marini Farm does not offer cut your own, but they offer a great selection of trees.