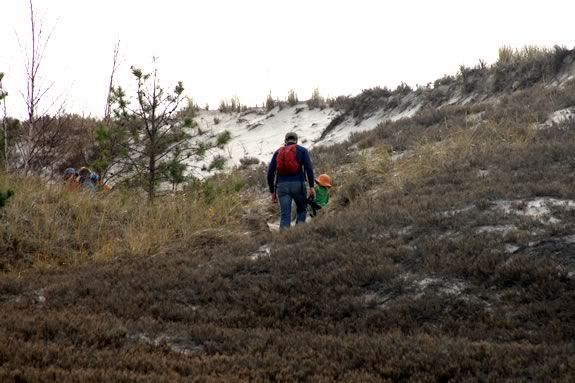 While just about everybody on the North Shore has probably been to Crane Beach, the dunes of Castle Neck are a much less explored world unto themselves. Offering one of the most accessible dune ecosystems north of Cape Cod, Castle Neck has over six miles of trails, traversing the dunes, maritime scrub forest, and beautiful beaches on both the Ipswich Bay and Essex/Castle Neck River estuary sides of the peninsula. These trails take you through Pitch Pine forests, up huge dunes offering stunning views of Choate Island, and by the varied landscapes of Castle Neck, including naturally occurring cranberry bogs.
This hike explores the heart of the Castle Neck trail system, giving you a taste of all it has to offer. It covers approximately four miles, but it will feel like more given the hills and added rigor of hiking in the dunes. Along the way, your CraneOutdoors guide will point out the flora found on Castle Neck, including the abundant Woolly Hudsonia (a.k.a., False Heather), which covers the dunes in a carpet of yellow when it blooms in late spring; the unusual dune mushroom known as the Earth Star; and the wildly fragrant Bayberry, whose berries were historically used to make candles. Your guide will chose the exact route the day of the hike based on current weather conditions and prevailing winds, but it typically covers the green and red trail loops on the Crane Estate trial map. Guests can expect to leave with a basic understanding of the Castle Neck trail system–more than enough to whet your appetite and give you the confidence to come back and explore on your own.
Due to soft sand and many hilly dunes, trail difficulty is Moderate.
When:
Saturday, April 15, 2023 10am-12:30pm
Saturday, April 22, 2023 10am-12:30pm
Prices:
TTOR Members: $24
Non-Members: $30