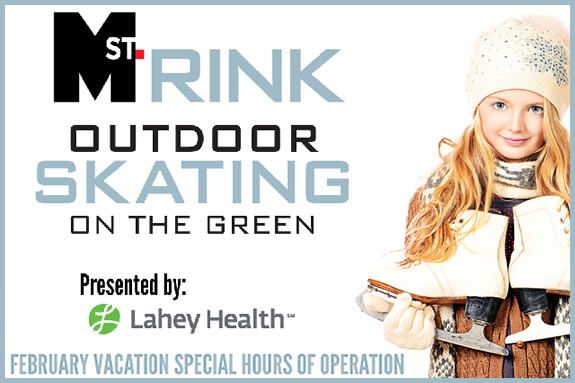 Since ice skating is the perfect winter activity, The MarketStreet Rink, presented by Lahey Health, expands its hours for President's Day and February break.
One of the best skating rinks in the region, The MarketStreet Rink is a classic 58 x 105 foot skating rink accented by a beautiful array of illuminated snowflake lights. Situated on The Green, home to MarketStreet Lynnfield's community events, performances and gatherings, it has views of Reedy Meadow. A 200-ton refrigeration unit ensures optimal ice temperature, even in warmer temperatures. Details can be accessed here.
The rink is located at 600 Market Street, Lynnfield, MA 01940, neighboring J.Crew, Vineyard Vines, J.P. Licks, lululemon athletica and FuGaKyu Japanese Cuisine. Guests can rent skates or bring their own.
The February break hours for The MarketStreet Rink, presented by Lahey Health, are as follows: 
Monday, February 19, 2018 through Friday, February 23, 2018: 11am-9pm

Saturday, February 24, 2018: 10am-10pm 

Sunday, February 25, 2018: 10am-8pm
Additionally MarketStreet Lynnfield will host special skating activities from the 19th-23rd:
Monday, 2/19/18: 11am-9pm: Family Day
Free Children's Admission with the purchase of Adult Admission
Take pictures at the MarketStreet Lynnfield Family Selfie Wall to be entered to win dinner
for 4 at MarketStreet Lynnfield; Balloon Artist from 12pm-2pm
Tuesday, 2/20/18: 11am-9m: Prize Wheel and Cocoa
Capital One Cafe will host a prize wheel from 1-3pm and serve complimentary cocoa at its Hot Chocolate Bar
Wednesday, 2/21/18: 11am-9am: Olympic Spirit Day!
All skaters will receive their own gold medal and can take pictures at the MarketStreet Olympic Podium
Wear Red White and Blue to receive free skate rentals
Thursday, 2/22/18: 11am-9pm: Best Friend Day
Best friends who skate together receive admission and rentals for the price of 1, alongside
a voucher from J.P. Licks for a Buy One Get One Free Small Hot Beverage
Friday, 2/23/18: 11am-10pm, Bruin's Pride Day
Skates Who Wear Bruins Gear will receive 1/2 off admission and a Bruin's Stress Puck with Admission
Skating Prices: Ages 13 and up: $8.00; Children 12 and under: $6.00; Children 3 and under: Free; Skate Rental Rates*: Skate Rentals: $4.00
MarketStreet Lynnfield is the North Shore's premium open-air shopping destination boasting over 80 shops and restaurants, over 25 of which are locally owned. Since its 2013 opening, it has become essential to the North Shore community, both for its diverse shopping, dining and entertainment options and for its dedication to family friendly events, seasonal festivities, and charitable fundraisers. Guests can find such leading brands as Amazon Books, Whole Foods Market, Kings Dining & Entertainment, Tommy Bahama, Davio's Northern Italian Steakhouse, Apple, lululemon athletica, California Pizza Kitchen, Nike Running, FatFace UK, Hanna Andersson, Yard House, Legal C Bar, sweetgreen, Tumi, Pink Parkway, Wahlburgers, Paper Source and Vineyard Vines. MarketStreet Lynnfield is developed and leased in a partnership between leading Massachusetts commercial developers National Development and WS Development. For more information and the most recent updates, please visit www.marketstreetlynnfield.com and follow along on social media: Facebook: MarketStreetLynnfield, Instagram: @marketstreetlynnfield, Twitter: @Shop_MarketSt #marketstreetlynnfield
About WS Development: WS Development is a Massachusetts-based property developer dedicated to the creation of places where people want to be.  With more than 20 million square feet of existing space and an additional five million square feet under development, it is one of the largest privately-owned development firms in the country. In business since 1990, WS is a vertically-integrated company that develops, owns, operates, and leases over 90 properties, including urban buildings, lifestyle centers, power centers, community centers, and mixed-use developments. Its goal is to be a contributing member of each community it serves. For more information, visit www.wsdevelopment.com, call 617.232.8900 or follow WS Development on LinkedIn.
When:
Monday, February 19, 2018 - Friday, February 23, 2018: 11am-9pm
Saturday, February 24, 2018: 10am-10pm
Sunday, February 25, 2018: 10am-8pm
.
Prices:
Skate Rentals: $4
Skating Prices: Ages 13 and up: $8
Children 12 and under: $6
Children 3 and under: Free