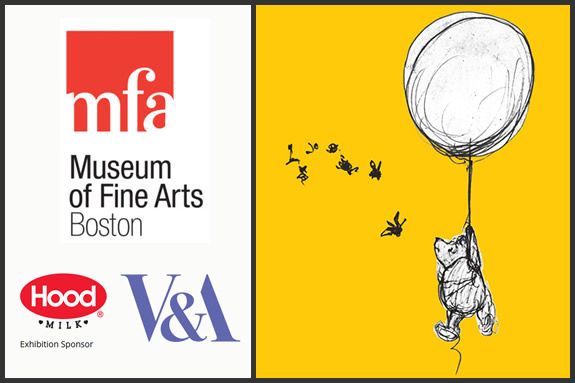 Get ready for an adventure with your favorite bear. The beloved teddy bear at the center of Winnie-the-Pooh, first published in 1926 and translated into more than 50 languages, is one of the most famous children's book characters of all time. This exhibition traces the history and universal appeal of the classic Winnie-the-Pooh stories written by A. A. Milne and illustrated by E. H. Shepard through nearly 200 works drawn primarily from the archives of the Victoria and Albert Museum.
Presented in a truly immersive display, the original drawings, letters, photographs, and early editions, along with whimsical ephemera, take visitors on a journey exploring how the stories of Pooh and his friends Eeyore, Kanga and Roo, Owl, Piglet, Rabbit, Tigger, and Christopher Robin have stood the test of time and continue to delight generations of readers around the world.
Exhibition Tickets Required
"Winnie-the-Pooh: Exploring a Classic," is on view in the MFA's Torf Gallery, 184, from September 22, 2018, to January 6, 2019; timed-entry tickets are required for everyone visiting the exhibition: adults, youth, and children, members and nonmember visitors alike. See "Winnie-the-Pooh" Ticket Information for details.
Tickets sell out quickly! Check the calendar and buy your tickets before you come.
After you've got your tickets, here are a few things to keep in mind so that everyone will have a great time at "Winnie-the-Pooh: Exploring a Classic." The MFA is very kid-friendly, but we ask that you take a look at these tips before venturing into the Hundred Acre Wood.
Every kid needs a ticket and an accompanying adult.
In the interest of safety for our visitors and collection, we ask that children under the age of 14 be accompanied by an adult at all times while visiting the Museum.
Take a stroll in the Hundred Acre Wood, but leave your stroller behind.
Strollers are permitted at the MFA,but due to the limited space and interactive nature of the exhibition, strollers will not be permitted in "Winnie-the-Pooh: Exploring a Classic."
Kid-friendly food is available.
All our dining venues will have something for kids to eat. The Garden Cafeteria will be featuring Winnie-the-Pooh inspired offerings. Taste Cafe features a kid's snack box. Our sit-down restaurants, Bravo and the New American Café, offer menus designed with kids in mind.
Need a low-sensory time to visit the exhibition? Two low-sensory mornings are available; please e-mail access@mfa.org or call 617-369-4027 for more information.
When:
September 22, 2018 – January 6, 2019