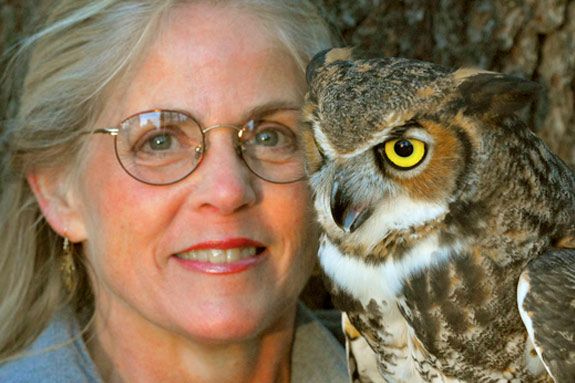 Join naturalist Marcia Wilson and photographer Mark Wilson of Eyes On Owls while they share their passion for owls! "Who's Watching You? Owls of the World" will introduce you to the owls of New England and beyond.
Mark and Marcia will share the field marks, signs and naturalist's skills that you can use to find wild owls without disturbing them, while introducing you to six live owls up close. Everyone is treated to a hooting lesson, as well as tips on how to attract and protect owls near you.
These secretive birds are specially adapted for living in diverse environments, from marshes to tundra and from rainforest to grasslands. Most owls thrive on eating small rodents like mice and voles. Some owls take insects, ducks, snakes, fish, frogs or bats. One owl even relishes a meal of skunk!
Explore the world of owls with two talented naturalists and six lively owls, whose pursuits both near and far make this interactive program fun and educational!  It's sure to be a highlight of your program schedule.
Marcia and Mark Wilson founded Eyes On Owls in 1994 as an educational enterprise that brings wild owls to schools or groups to learn more about wild owls and their habitats.
The owls at Eyes On Owls are permanently disabled - that is they can't survive on their own in the wild. Many of the owls are survivors of collisions with vehicles. Eyes On Owls gives each owl a safe, clean, low stress home and all the mice they need to eat (owls don't eat plants, of course). Several times a week, Marcia and Mark bring a selection of owls to a school or group program to help people learn about these fascinating birds.
When:
Thursday, April 18, 2019 3:30-4:15PM