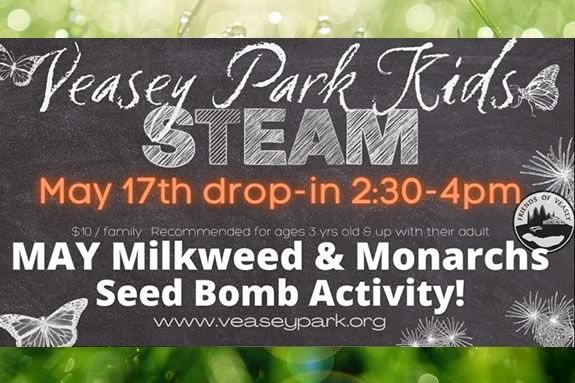 Poisonous Plants, Endangered Insects, and Beneficial Bombs! Huh?!
When are bombs beneficial? How can toxic plants actually help and support an endangered species? Join us to learn more about Monarchs and Milkweed, make native milkweed seed bombs, and, while they dry, craft Butterfly Suncatchers. Take the suncatchers home or help us adorn Veasey's enclosed porch! When the seed bombs are dry, you can take them home or toss them into the field at Veasey Park.
Drop-in anytime between 2:30 & 4pm! $10 / family includes everything you need. Please pre-register. Space is limited, so be sure to let us know how many participants to expect. Ages 3 & up. Caregivers are responsible for children during activity, and may need to help children with some of the steps.
If you are unable to make it to the event, and would like a take home kit, please get in touch!
Spots are limited, so please pre-register. For any questions, contact carole.veasey@gmail.com.
When:
Tuesday, May 17, 2022 2:30-4pm