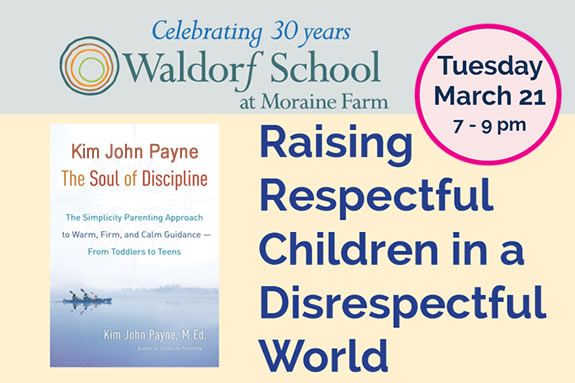 Waldorf School at Moraine Farm presents a lecutre by Kim John Payne based on his book The Soul of Discipline. The Simplicity Parenting Approach to Warm, Firm, and Calm Guidance - from Toddlers to Teens.
On Tuesday, March 21, from 7:00 to 9:00 pm., Kim John Payne will lead a lecture entitled Discipline: Raising Respectful Children in a Disrespectful World, hosted by Waldorf School at Moraine Farm.
The lecture, based on Kim John Payne's book, The Soul of Discipline, will explore how to set firm but loving limits that expand as a child grows from toddler to teen. Kim will offer strategies that parents and educators can use at home and in the classroom.
Registration is open to the public for a fee of $10.
"As Waldorf teachers, it is our responsibility to educate students to become independent, creative thinkers who are respectful, compassionate and socially inclusive," says Beth Dowd, member of the Education Support Committee.
Kim John Payne is the author of the #1 Best Selling book Simplicity Parenting, and The Soul of Discipline.  He has worked throughout the world as a consultant, researcher and counselor, exploring issues such as social difficulties among siblings and classmates, attention and behavioral issues at home and at school, and emotional issues such as defiance, aggression and self-esteem. He regularly gives keynote addresses at international conferences for educators, parents and therapists, and runs workshops and trainings around the world.  He is the founder of the Center for Social Sustainability and a faculty member at Antioch University New England. He has been featured in Time Magazine, Parenting Magazine, and is a regular guest on NPR, BBC, ABC, NBC, & CBS television.
For information or to register, please visit waldorfmoraine.org/event/kimjohnpayne.
About Waldorf School at Moraine Farm
Waldorf School at Moraine Farm is one of 121 Waldorf schools in the United States and nearly 1,000 Waldorf schools worldwide.
Waldorf School at Moraine Farm is an independent, non-profit school founded in 1986. The school is located on ten acres of the historic Moraine Farm property in Beverly. It serves approximately 120 students from pre-kindergarten to eighth grade. The school has open enrollment year around.
The mission of Waldorf School at Moraine Farm is to help students discover and develop their individual capacities and build self-confidence, so that they can fully engage in the world and contribute meaningfully to society.
To learn more about the Waldorf School at Moraine Farm, visit www.waldorfmoraine.org or call 978.927.1936.
When:
Tuesday, March 21, 2017, from 7pm to 9pm