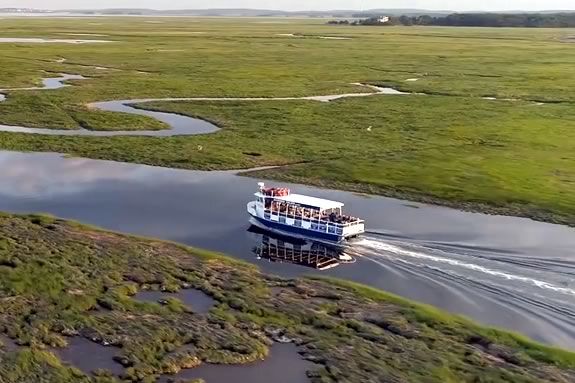 Join Mass Audubon's Joppa Flats Education Center on a On-the-River Science cruise aboard Newburyport Harbor Tours Inc.'s Yankee Clipper through the Merrimack River Estuary! Teacher Naturalist, Lisa Hutchings and the crew of the Yankee Clipper will guide a unique cruise where participants will do some birdwatching, examine marine plankton, and investigate tide pool touch tubs on every trip. Enjoy cruising and learning about this vital part of the area's natural history.
For Families with children ages 3 & up.
Please register by 4:00 pm the day before the program.
Available June 25, July 30 & August 20
Instructions:
Meet at the Newburyport boardwalk at 8:45 am. Bring binoculars and extra layers of clothing. Program runs rain or shine, except during thunderstorm or small-craft advisories. The Yankee Clipper is U. S. Coast Guard-inspected and licensed, with life vests and a toilet.
Mass Audubon Cancellation Policy: If you wish to withdraw less than seven days prior to the program, refunds cannot be issued. If we cancel the program, you will be refunded in full.
When:
Saturday June 24, 2023 8:45-10:45am
Saturday, July 15, 2023 8:45-10:45am
Saturday, August 12, 2023 8:45-10:45am
Saturday, September 16, 2023 8:45-10:45am
Prices:
Audubon Members: Adults: $28; Children: $24
Non-Members: Adults: $36; Children: $32