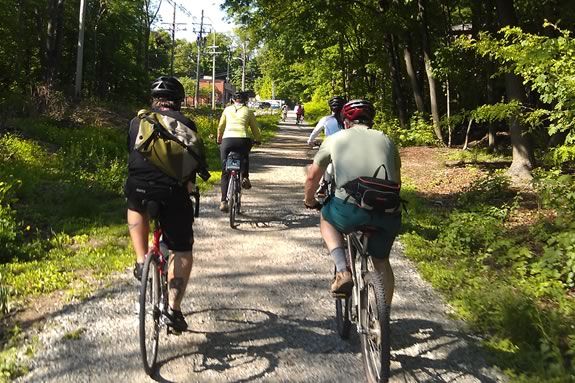 Join ECTA Trail Steward and Topsfield Rail Trail Committee Chairman Joe Geller as he leads us on a bike tour of the Topsfield Linear Common Rail Trail through Topsfield, Wenham, Danvers and Peabody.  We will begin at the Town Hall parking lot in Topsfield at 9 a.m. and ride to Lowell Street in Peabody.  We'll stop for a short break at Karl's Sausage Kitchen off Lowell Street in Peabody for rest rooms for about 20 minutes before returning to Topsfield.  This is a great chance to discover a fantastic and safe multi-use path you never knew was there!!
The ride is about 14 miles round trip, on hard packed surface over relatively flat terrain.  Total trip should take 2-3 hours.  Feel free to head back to the start at any point.  You cannot get lost! Hybrid or mountain bikes are recommended, though the surfacing on most of the trail is OK for a road bike.  Helmets are required.
For more information about this ride, please email us.
This free event is part of the Trails & Sails event series sponsored by Essex National Heritage.  For more information on other Trails & Sails events, click here.
When:
Sunday, September 25, 2016 9am - Noon
Prices:
Free as part of Trails and Sails!