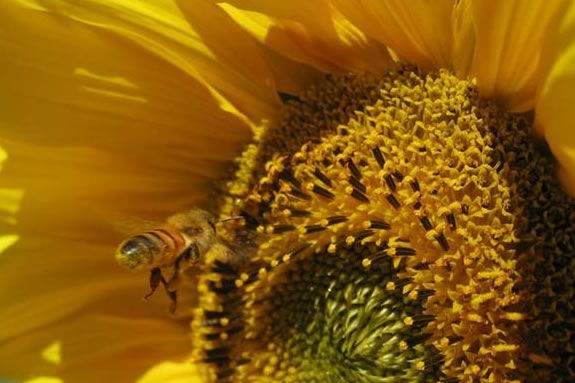 Bees are in trouble and humans can help. Within the past few years, a syndrome has been destroying bee colonies world-wide in a cycle referred to as Colony Collapse Disorder. In 'Queen of the Sun', director Taggart Siegel explores the world of bees and looks for answers to the sudden crisis that is threatening bee populations around the planet. Come to this screening at the Waldorf School at Moraine Farm on the The Trustees of Reservations Moraine Farm to learn more about the bees' plight and Moraine Farm's plan to make a difference for the bees.
Bees are an essential part of the food chain because they have evolved over eons to become the most effective pollinators of plants, which in turn bear fruit as a result of the pollination. The fruit of the plant is food to us, but more importantly, it is how the plant reproduces. Without bees, pollination rates will crash, plants will not produce fruit and the end result will be absolute catstrophe for not only humans, but all living things and the planet itself.
At the screening, a new initiative will be announced to establish a biodynamic bee sanctuary on Moraine Farm in Beverly. Biodynamic beekeeping draws of the same principals as biodynamic farming, a type of advanced organic farming that seeks to harness the varied and dynamic forces of nature to bring health to the land, food, animals and local communities. As with biodynamic farming, a key goal of biodynamic beekeeping is sustainability.
By teaming up with the Waldorf School at Moraine Farm and the The Anthroposophical Society of Cape Ann, the Moraine Farm plans to maintain a diverse bee population to help pollinate the crops at the farm and the plants in the surrounding area.
Queen of the Sun Trailer
Specifics:
Seating is limited.
Admission requires a reservation
Proceeds from this screening will help support the creation of a biodynamic honeybee sanctuary at Moraine Farm in Beverly.
When:
Saturday, March 31, 2012 4pm
Prices:
Suggested donation: $10 per person, $15 per family