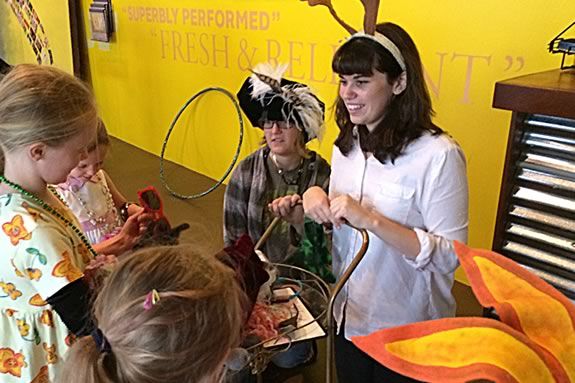 Gloucester Stage Company invites kids ages 2 and up to Playtime Stories. Playtime Stories offers young children the unique opportunity to experience the fun and magic of live theatre as they watch their favorite books come to life onstage. Following the performance audience members will be invited to join the Playtime Stories Company in fun and interactive workshops relating to the story.
Each Saturday the Playtime Stories Company, consisting of members of Gloucester Stage's apprentice company and veteran Youth Acting Workshop students will perform a children's story against the backdrop of the story's illustrations as well as create a dynamic weekly series of interactive events related to the story.
According Youth Acting Workshop Director and Teacher Heidi Dallin, "Playtime Stories is a great way for YAW to reach out to younger audiences and spark their excitement in live performance. Each week one interactive activity will be a theatre game so they will begin to learn the basics of acting. It is great to work with the apprentices and the veteran YAW students.
Some of the YAW students have been involved in the program since they were 5 years old and now they will inspire the next generation of YAW students!" Each week Playtime Stories explores a different story ranging from classic fairy tales to new stories to works by local authors. Upcoming books featured at Playtime Stories:
July 16: Dr. Seuss Day: What Pet Should I Get? and The Cat in the Hat
July 23: Virginia Lee Burton Day: Mike Mulligan and His Steam Shovel and The Little House
July 30 :  Rumpelstiltskin
When:
Saturdays through July 30, 2016 at 10am