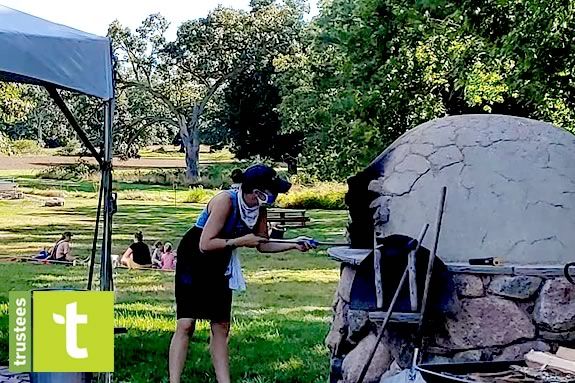 Pizza Picnics at Appleton Farms features pizza baked in our wood fire oven, made fresh by hand when you order! Non-alcoholic beverages and assorted sweet treats will also be available to purchase on site, as well as beer or wine from one of our local featured vendors (be sure to bring your wallet and ID!). Pick a spot anywhere on the grass for a picnic-style meal – picnic blankets are strongly encouraged!
Please Note: We are no longer accepting advance orders or pre-orders for pizzas, it will be first come/first serve, with more pizzas made per day. Pizza quantities will be limited and while supplies last. Arriving early if you can is always good, as wait times can become longer later in the day. Also, no advance reservations or ticket purchases are necessary to attend the Pizza Picnics. Come by the farm for a perfect pizza picnic experience any time. Come early and often!
Meal Details:
We offer 3 pizza options each week: Cheese, Seasonal Veggie, and Meat-za
We offer 2 sweet-za options each week.
Non-alcoholic drinks, ice cream, and beer are available for purchase separately on site so bring your wallet and ID!
Café Hours: Fridays, 3-6pm | Saturdays, 12-6pm | Sundays, 12-4pm
We will also be joined by a collection of local breweries, wineries and cider makers. Keep an eye on our social media for more on who is joining us.
Please note: Visitors will be asked to follow Covid-19 related guidelines, including wearing face coverings and maintaining social distance. If you are experiencing symptoms, please do not visit at that time.
When:
Fridays through November 20, 2020 3-6pm
Saturdays & Sundays through November 22, 2020 12-6pm