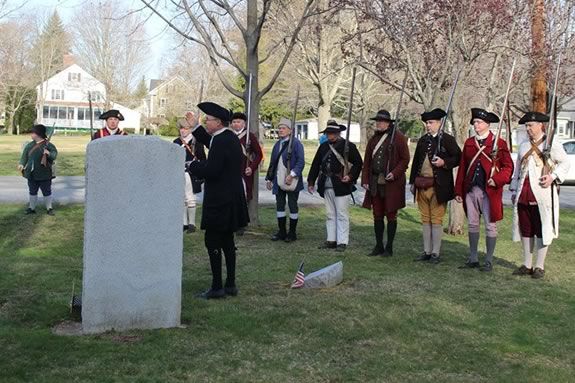 The Danvers Alarm List Coy is a group of 18th century living history reeanactors that portray the militia, minute and alarm companies of Danvers and surrounding communities, as they existed in the 1774-1775 timeframe.  Join them in Danvers for a unique celebration of Patriot's Day!
7:00-7:30 Training Field (Centre Street Danvers). The Village Training Field on Centre Street was given to the town by Deacon Nathaniel Ingersoll in 1709 as a training place. A marker at the Training Field stands as a memorial to the seven Danvers men who died on April 19, 1775 in Menotomy (Arlington).
8:30-9:30 Old North Bridge (174 Liberty St, Concord, MA).
11:30-12:00 Ceremony at Lexington Monument (Washington St. Peabody)
12:00-12:30 Old South Burial Ground (Main Street Peabody). The South Burial Ground contains the graves of four Danvers men who died on April 19: Ebenezer Goldthwaite, George Southwick, Samuel Cook, and Benjamin Daland.
12:45-1:00 Jacobs Gravesite (Edgehill Road Peabody). Henry Jacobs was one of the Danvers men who fell on April 19. He is buried in a family cemetery. At that time, Peabody was part of Danvers.
1:30- 1:50 Reuben Keniston Grave - Leach Burial Ground (Elliot Street Danvers). Ruben Keniston was a Beverly man who marched to Menotomy with Capt. Israel Hutchinson's company. He was killed on April 19.
2:00 - 2:20 Hutchinson Home Site Marker (Water Street Danvers). Capt. Israel Hutchinson commanded a Minute company that fought in Menotomy. Hutchinson lived in a home on Water Street in Danversport, which is no longer standing. The bodies of the Danvers dead were brought back to this house on April 20, 1775. A granite marker marks the location of the house.
2:30- 2:50 Nurse Homestead Cemetery (Pine Street Danvers). The cemetery at the Nurse House contains the graves of Revolutionary War veterans Francis Nurse (grandson of Rebecca) and Matthew Putnam.
When:

Monday, April 20, 2020 7am-3pm