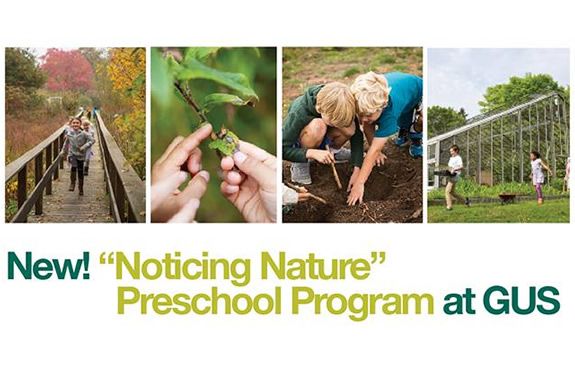 One day left for the morning preschool program, for children ages 3.6 to 5 by partners Glen Urquhart School and Kestrel Educational Adventures.
Each week, our preschool program Noticing Nature will focus on one of the five senses, and we'll practice waking up that sense to notice the natural world around us. The one-hour class will start in the GUS greenhouse, where children will engage in activities to focus their senses, such as looking for things that are hidden, listening to recorded bird calls, and experiencing different smells. Each class will also include a guided walk on the GUS nature trail, where we'll heighten our senses and discover as much as possible. The class will end with the group telling the story of the day, sharing what we noticed with our senses and learning a few activities the children can practice throughout the week to keep their senses sharp. Our storytelling approach and use of dramatic voices and movement encourage even the youngest children to participate.
Noticing Nature will be held on Wednesdays, in the GUS campus greenhouse, at 74 Hart Street, in Beverly Farms, from 9:00 to 10:00 a.m., December 13th.
Glen Urquhart School
Organizer of Glen Urquhart School "Noticing Nature" Preschool Program
Glen Urquhart School is an independent, co-educational day school for students in kindergarten through grade eight. With a commitment to knowledge, creativity, and character, teachers at GUS focus on an interdisciplinary curriculum that incorporates place-based learning, thematic study, community service, and integration of the arts. The 23-acre GUS campus is designed to promote environmental awareness and appreciation and features nature trails that wind through woodland, vernal ponds, outdoor classrooms, past a 7,000 square foot greenhouse, and historical architecture. Located in Beverly Farms, GUS is celebrating its 40th year on the North Shore. www.gus.org
When:
Wednesday, December 13, 2017 from 9:00 to 10:00