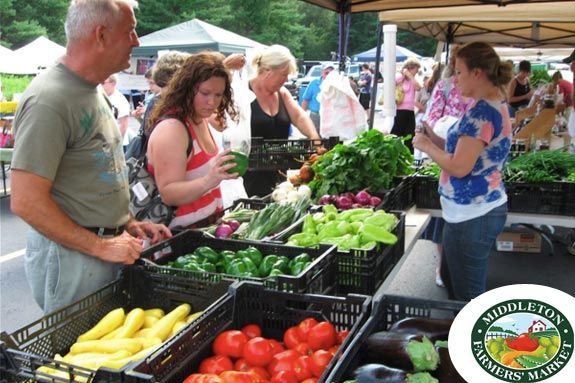 The Market features 20-25 vendors. All the vendors are local and include organic farms that sell fruits, vegetables, herbs and flowers, meat, eggs, fish and a variety of prepared foods. You'll also find handmade crafts from local artists. Meet the farmers, take in the  fun community atmosphere.  Events include music, face painting, balloons, and a magician. Follow on Facebook to find the latest happenings.
The Middleton Farmer's Market exists to promote the health of our community, our environment, and our local economy. With a focus on local agriculture, the market promotes the many benefits of eating fresh and eating local while supporting the viability of farmland in the area. The weekly market is a vibrant social event that fosters community that matches the character of our town.
The Middleton Farmers Market is located at 145 South Main Street diagonally across from Richardson's Ice Cream.
When:
Every Wednesday starting June 25, 2014 2:30-6:30pm