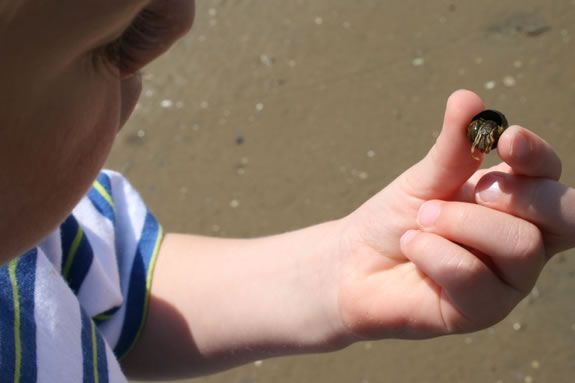 Drop in at Joppa Flats BEFORE the beach, AFTER the beach, or INSTEAD of the beach! What is that spiky thing I almost stepped on? How do starfish – or is it sea stars – eat? Are those baby fish, or is that as big as they get? You have the questions, Joppa Flats Education Center has the answers – and the animals – and the touch tanks!  Themes will change weekly!
What will be offered? Supervised handling and interpretation of LIVE beach creatures from Plum Island in a 110 Gallon touch tank.  This is a great opprotunity for kids and families to touch, discover, learn and explore the habitat fot he beach and shoreline!
"Come visit us before the beach, after the beach, or instead of the beach," says Lisa Hutchings, School and Youth Education Coordinator at Joppa Flats. "Our team of interns and young naturalists will explain all the critters in our touch tanks – what they are, why they live where the do, how they interact with each other.  And we'll have crafts and games, too!"
Any other creatures? We could have live caterpillars, insects, and special temporary summer guests such as painted turtles, tadpoles, and more!
This is a drop-in program
All Ages
Kids must be accompanied by an adult.
No preregistration required, but if you have a group of 10 or more, please call ahead.
When:
Thursdays - Sundays, June 28 - August 26, 2018 10am-3pm
Prices:
Suggested Donation: $2/child