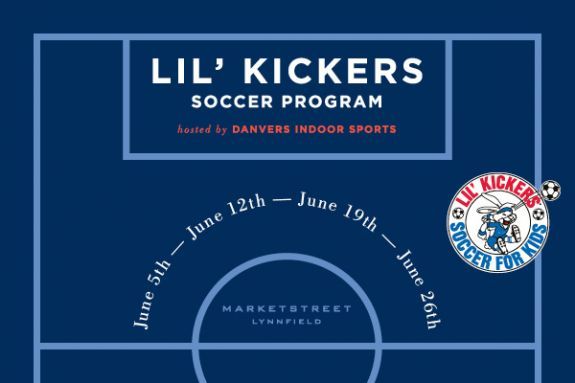 Whether your child is new to soccer or needs freshening up on their skills, these complimentary Lil' Kickers Soccer Sessions presented by Danvers Indoor Sports will not disappoint!
4 Week Program
Separate Eventbrite links have been set up for each week. Please sign up for your child with the appropriate age time slot each for each week. All dates are weather permitting. In the event is cancelled due to weather, it will be rescheduled for a later date in July.
Tuesday, June 5, 2018, from 4-5:40 PM
Tuesday, June 12, 2018, from 4-5:40 PM
Tuesday, June 19, 2018, from 4-5:40 PM
Tuesday, June 26, 2018, from 4-5:40 PM
What should my child wear/bring?
Please have your child come dressed with shin guards and sneakers.
*Cleats will not be allowed on The Green.*
Don't forget water!
Lil' Kickers, a strong foundation…for life.
Making a difference, one goal at a time! Lil' Kickers is a child development program for ages 18 months-9 years old that uses soccer to inspire kids to reach their full potential! Lil' Kickers is more than just a great soccer program for kids. It's balanced and creative approach to coaching that will have a positive impact on your child that goes far beyond the soccer field. These high-energy soccer classes are carefully designed to enhance your child's overall growth and well-being. The result? Kids with strong physical skills, who are well-balanced and confident. And, we do all this while your child has the time of their life.
When:
Tuesday, June 5, 2018, from 4-5:40 PM
Tuesday, June 12, 2018, from 4-5:40 PM
Tuesday, June 19, 2018, from 4-5:40 PM
Tuesday, June 26, 2018, from 4-5:40 PM