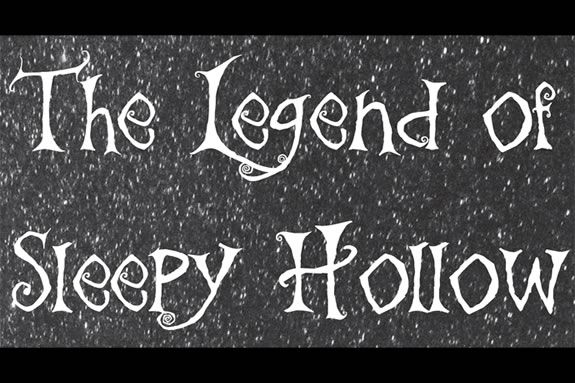 Ichabod Crane is the newly-hired school teacher in the post-Revolutionary War village of Sleepy Hollow. Ichabod is the kind of soft-spoken, seemingly timid sort who is constantly bullied by the ruffians who loiter about the Sleepy Hollow Tavern.
These wastrels are led by Brom Bones, who is a big, booming lug who loves to play practical jokes and intimidate folks like Ichabod. These men parry over the coquettish charms of Katrina Van Tassel. As it says in the script: "Men will do anything for Katrina. All men. All the time." It is this love triangle that leads to one of the most frightening, exciting and spooky conclusions in all of American literature. Beware the Headless Horseman!
The cast includes (in alphabetical order): Sam Bell, Ceiligh Cacho-Negrete, Sadie Cacho-Negrete, Fred Calcinari, Lizzie Cormier, Maureen Daley, Zach DePaolo, Hanna Gustafson, Oliva Gustafson, Ava Hazo, Christian Hoots, Paige Lichty, John Manning, Gianna Minichiello, Aria Nevin, Morgan Proops, Katie Proulx, Kerry Quinn Eckelkamp, Jessie Rosenthall, Mary Shapiro, Beth Trach, Jonas Trach, Kirk Trach, Tiegan Trach, Alex Troisi and Hannah Vincent.
Adapted and directed by Jack Neary
Assistant Director: John Budzyna
When:
Thursday, January 12, 2017 7pm
Prices:
General Admission: $18
Seniors, Students & Members: $16