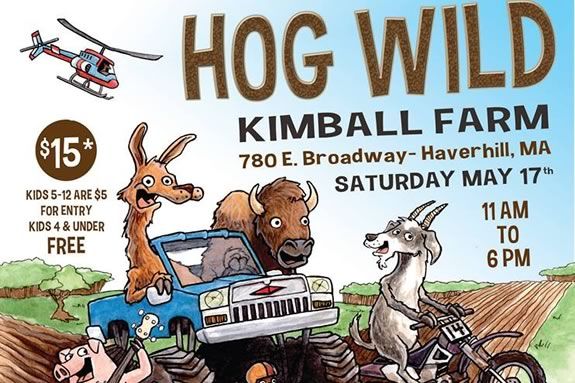 "Hog Wild in Haverhill" will be returning to Kimball Farm for a second year on Saturday, May 17, 2014 at its location at 780 East Broadway in Haverhill, MA. The family friendly country fest, which runs from 11 am to 6 pm, features live music, lawnmower racing, a monster and mega truck show, antique tractors & plowing demonstration, motocross demonstrations, pig roast and more. 
Kimball Farm is happy to welcome Monster Truck "Jethro Tow" this year  will be on display.    There will be at least a half dozen mega trucks including Truck Norris, Over Budget, No Mercy, and The Sarge participating in a mud demonstrations. Guests can meet and greet the drivers and have their pictures taken with the oversized trucks.
Lawn mower racers from all over the eastern US will be haulin' grass in an American Racing Mower Association national points race.  Watch some of the best drivers on the cutting edge of the sport reach speeds of up to 60 mph as they compete for prizes and showcase their customized mowers turned race vehicles.  Cheer on Nomad Mower Racing (sponsored by Kimball Farm, Hussey Excavation and CSI) as they attempt to bring home the most points toward the national race later this year. 
New this year is a freestyle motocross demonstration by Kenny Haskell and Friends.  They will be offering up three high adrenaline shows throughout the day, showcasing the skills that make them sought after performers worldwide. 
Live music will be performed on an outdoor stage throughout the day.  Mostly Young, a group of Massachusetts natives strongly influenced by Neil Young, will deliver country themed rock licks followed by Jake Davis and the Whiskey Stones, a bluegrass band from Portland, Maine known in these parts for their boot shakin' bluegrass tunes.
Hog Wild in Haverhill drew over 1,300 people to its debut country fest last year.   "We're hoping to build on the good times that everyone had last year, introduce some new farm friendly events and have a good old time," said Tyler Kimball.    The farm has been owned and operated by the Kimball family since 1820, and the family takes great pride in introducing new people to the farm and all it has to offer.  Many fun activities are planned throughout the event including:  cow milking demonstrations, pony rides, antique plowing demonstrations, lead a llama, feed a pig, hay rides and more.  Earn trophies and bragging rights in the skillet toss competition, horseshoes,  and more games.              
Discounted tickets are available in advance at www.amesburysportspark.net/hogwild.html.  Tickets are available at the gate on the day of the event. 
The event, sponsored by Chase & Lunt, Evolvement Radio, Pabst Blue Ribbon and Pentucket Bank, will be held rain or shine.  Pets and coolers / outside food & beverages are not permitted.  Parking is $3.  Admission is just $15, kids 5 to 12 are $5, and kids 4 years old and younger are free.  A portion of the proceeds will be donated to the Special Olympics.
When:
Saturday, May 17, 2014, 11 a.m. to 6 p.m.