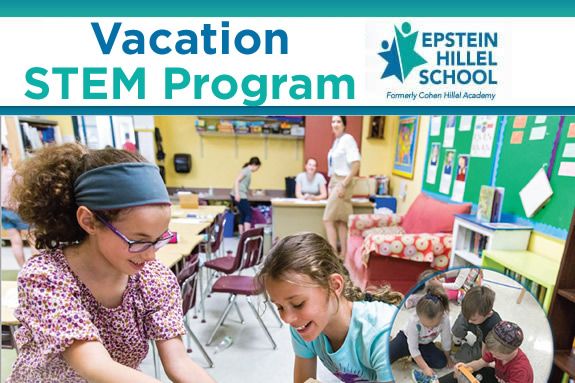 Program a robot. Design a zip line vehicle. Vacation STEM Program at Epstein Hillel is a program that invites you to drop off your 2nd - 5th grader at Epstein Hillel for a hands-on STEM activity, lunch, and recess. Pick up at 1:00 when you'll have the opportunity to see your child present his/her STEM project.
This program, including lunch, is free.
Space is limited!
To learn more, please contact Jennifer Stam Goldberg at jgoldberg@epsteinhillel.org.
Epstein Hillel School, formerly Cohen Hillel Academy, provides the finest in K-8 education grounded in Judaism. Our faculty teach a rigorous interdisciplinary curriculum that fosters critical thinking, curiosity, creativity, and a love of learning. Relationships are at the heart of the school, and the teachers help students meet their full potential in a close-knit and compassionate community. Epstein Hillel graduates are known for their academic achievement, strong Jewish identity, confidence, intellect, and sound moral compass.
Epstein Hillel shares a campus with Temple Sinai and the Jewish Community Center of the North Shore and partners with numerous other agencies and schools across Greater Boston.
When:
Tuesday April, 17, 2018, from 10:45-1:00