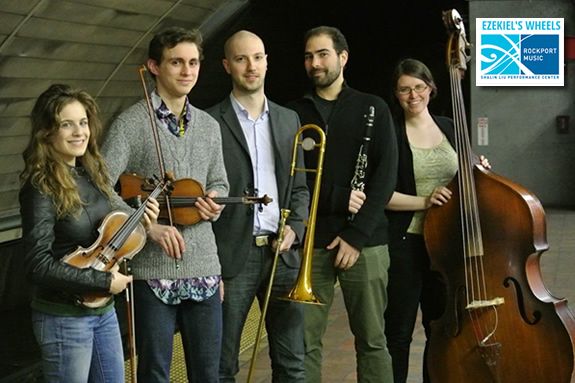 Ezekiel's Wheels is a dynamic young klezmer ensemble from the Boston area that is getting international recognition for their virtuosity and infectious energy.The quintet's unique style was forged in the subway stations and farmers' markets of Boston, where the informal setting and ever-changing audience created an ideal environment for musical experimentation. After playing these informal gigs for some time, Ezekiel's Wheels entered the 2012 Boston Jewish Music Festival's "Klezmer Idol" competition, winning first place and a recording session. Seven months later, with a brand new EP under their belt, they won both the jury-awarded City Winery Prize for best klezmer ensemble and the Audience Pick Award at the third biennial International Jewish Music Festival in Amsterdam. They continue to perform regularly across New England, occasionally around the United States, and every-so-often around the world.
Ezekiel's Wheels features Abigale Reisman (violin), Jonathan Cannon (violin), Kirsten Lamb (upright bass), Nat Seelen (clarinet), and Pete Fanelli (trombone).
This concert is being offered as a free Community Concert.   No reservation required.
When:
Wednesday, March 2, 2016 7:30 p.m.