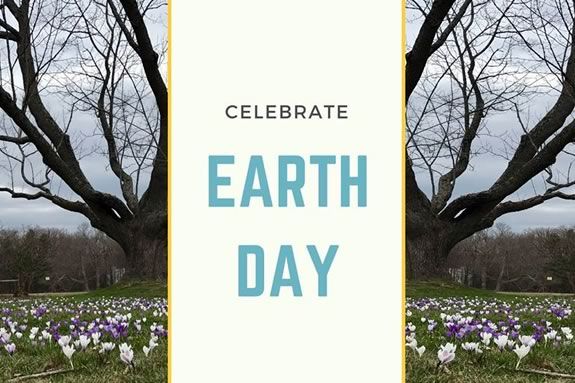 Join The Trustees of Reservations at the Stevens Coolidge o celebrate Earth Day! This global day of action sees more than 1 billion people in 192 countries participate and we want you to head to the Stevens-Coolidge Gardens to join them. This mid-day event will provide an opportunity for continued learning, making a difference today and in the future, and kid-friendly games highlighting fun ways to take care of our planet. Community groups whose missions coincide with that of The Trustees and Earth Day will be present to share ways to get involved in the community and live a greener life.
Schedule Activities:
Guided Pollinator Walk 11:30AM & 1PM – Butterflies, birds, bees, you can find them all in the gardens. Join a knowledgeable guide on this casual stroll through the property to learn more about our pollinator friends and why we should strive to keep our earth safe for them.
Recycle Relay Race 12PM & 1PM – We know to be kind to our earth by reducing and reusing, but what happens when it's time to discard an item? Feed them to the Recycle Monsters! Teams can test their sorting skills in this family-friendly relay race. Who will be rid of their trash first and appease these Monster appetites?
DIY Seed Bombs 11:30AM to 1:30PM – if you love visiting the gardens and would like to bring a piece home with you, then stop by the Seed Bomb table! Get your hands dirty mixing clay, compost and wildflower seeds together to plant in your own green space – whether a yard, sidewalk or field – humans and animals alike will benefit from you seed bombs.
Ongoing Activities:
Meet your Neighborhood Earth Supporters – Local organizations that grow your food, inform green practices and support environmentally-minded youth will be present today to talk with you about how to be a better steward of the earth. For example, members of the North Andover Sustainability Committee will be present to encourage green living in the community and the staff at Roots Compost of Lawrence will discuss their food scraps collection service and how you can turn all your organic waste into compost, and receive some back for growing season.
General maintenance of the gardens – Get your hands dirty!
Earthly Causes – Write letters to your local and state representatives about the environmental issues that matter to you. Suggest greener practices for local businesses and send thank you cards for good deeds.
Clothing Swap – Bring your gently used clothing that could find a new life with someone else and take home something new-to-you! Everyone needs clothes, but buying new clothes isn't exactly the kindest thing we can do for our planet. Every piece of new clothing (if not made sustainably) can be the product of countless chemicals and dyes, all of which can be harmful to the earth and air, not to mention the people who often create them. We ask that you bring no more than 5 items, and take no more than 5 home with you. If you do not have clothes to bring, you are still welcome to join and check out what others have brought!
Comment Board – As the event concludes, be sure to stop by the comment board and complete the following sentence: "I promise to the earth..."
Pre-registration encouraged.
When:
Sunday, April 22, 2018 11am-2pm
Prices:
TTOR Member: Adults: $5; Kids: FREE
Non-Member: Adults: $10; Kids: $5