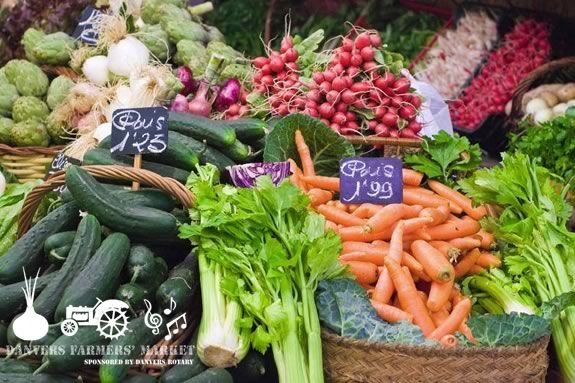 Hosted by the Danvers Rotary, the Danvers Rotary Open Market has fresh fruit produce and other locally made foods every Wednesday June through August in the heart of Danvers Massachusetts.  Come visit to see our array of local and regional vendors. This community building program is sponsored by the Danvers Rotary.
The market will be open to local produce and food vendors as well as a wide range of local entrepreneurs.  There will be activities for kids and families and an increased number of food trucks and food vendors. Previously Known as the Danvers Farmers Market, we are going to change the name to Danvers Rotary Open Market to reflect the type of vendors we have at the event. 
The change we are most excited for is we are relocating the market to be held on the grounds of the Peabody Institute Library in collaboration with the Danvers Recreation Summer Concert Series.
This is the 21st year of concerts for Danvers Recreation at Rotary Pavilion and they attract 500-800 attendees.  This change will mean more potential shoppers and foot traffic for the market which should attract more vendors.  For local businesses that support the market it will mean dual exposure for your brand.
Danvers Rotary in collaboration with Friends of Danvers Recreation have developed sponsorship levels that will help cross promote your business during the 8 market dates as well as the Monday night concerts held at Rotary Pavilion.  That is 16 potential events with close to 10,000 attendees throughout the summer!
A portion of your sponsorship will go to support Danvers recreation and provide funding to bring in quality bands for the Summer Concert Series.  The remaining funds will go to support Rotary causes in Danvers and around the world.
In 2019 Danvers Rotary will:
Provide upwards of $6,000 in Scholarships to worthy high-school seniors
Fund a vocational scholarship thru NS Community College
Provide YMCA summer campership tuition for at-risk youth
Donate food, clothing and meals to various organizations to meet a growing need.
Support surgeries around the world for children with cleft palates – www.rotoplast.org
Support the eradication of Polio around the world that has been a mission of Rotary since the 1980's.
When:
Wednesdays, July 10-August 28, 2019 4:30-7pm