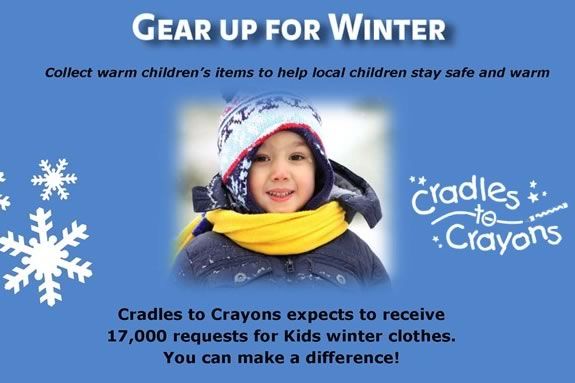 Donate your warm winter used clothing and other items in Rockport. Kids clothing and winter coats are in high demand this time of year, and your contribution can really make a big difference in somebody's life! Bring your donations to the Rockport Transfer Station or Smith Ace Hardware. 
Specific Areas of need are:
Winter Clothing
Winter Coats
Winter Shoes and Boots
New socks and underwear
Hats, gloves, scarfs and mittens
Contact Matt Ambrogi for more info: 508.423.2857
Cradles to Crayons' vision is that one day, every child will have the essentials then need to feel safe, warm, ready to learn and valued. Through the Giving Factory, we provide those essentials, as donated clothes, shoes, books and school supplies to homeless and low-income children. We also offer meaningful volunteer opportunities to hundreds of corporations and thousands of individuals and families each year.
When:
Rockport Transfer Station: Saturday, November 24, 2012
Ace Hardware: Friday & Saturday, November 23 & 24, 2012 open to close