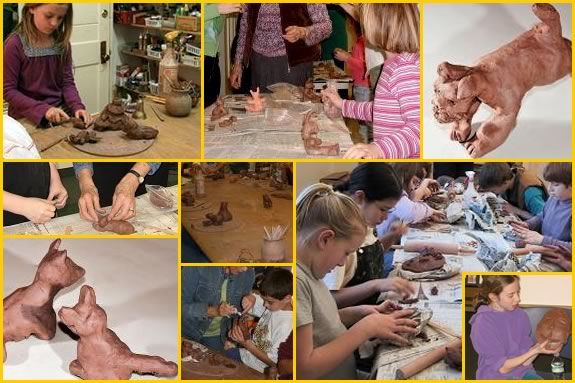 Local artist, storyteller and teacher Ann McCrea will help kids use modeling clay to sculpt a rabbit or coyote! CLAY♦WORKS combines the magic of storytelling with clay sculpting. The 70-minute CLAY•WORKS program teaches kids from 1st-6th grade [ages 5-11]. Sitting in a circle on the floor, Ann tells a story which evokes their interest and creativity.
The sculpting demonstration and teaching which follow use rhyme, humor and repetition to prepare kids for a hands-on experience of sculpting their own character from the story.
The focus of CLAY♦WORKS is twofold: to facilitate kids' experience of their own creativity through interactive teaching, and to foster kids' empathy for the natural world, encouraging their growing sense of responsibility. "Before we care, we must first feel a connection."
Ann McCrae is a gifted teacher to children in the Newburyport area.  She believes that story telling and clay modeling go hand in hand to create an interactive story telling experience.  Check out her studio and her Clayworks workshop for kids!
When:
Thursday, April 24, 2014 10am