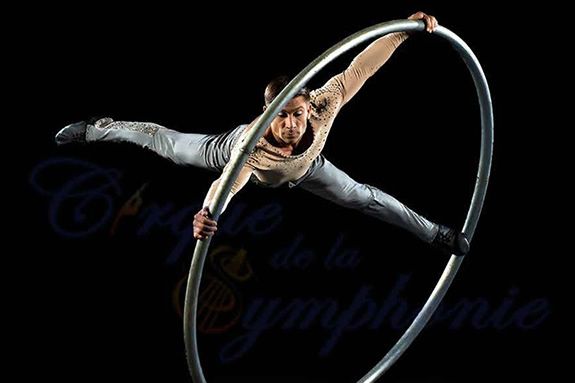 Join us for the magical fusion of circus and live orchestral music.
Cirque de la Symphonie's aerial flyers, acrobats, contortionists, dancers, jugglers, balancers, strongmen, and other talented artists take the stage as the Boston Pops perform their own spectacular musical feats. Critics say these 'must-see' performances "mesmerize adults and children" with "a breathtaking display of agility and incomparable beauty."
Cirque de la Symphonie is an exciting production designed to bring the magic of cirque to the music hall.
For more than 10 years, it has thrilled and bedazzled veteran concert goers and new patrons as they see accomplished aerial flyers, acrobats, contortionists, dancers, jugglers, balancers, and strongmen perform to live symphony music. They include world record holders, gold-medal winners of international competitions, Olympians and some of the most experienced cirque talent ever seen. Their performances are uniquely adapted to stage accommodations shared with the symphony, and each artist's performance is choreographed to the music arranged in collaboration with the maestro. When the artists of Cirque de la Symphonie perform in front of the full orchestra, an incredible fusion of these two great art forms takes place. The aerialists and acrobats turn the concert into a three-dimensional entertainment extravaganza, and the orchestra seems to play with enhanced enthusiasm.
Prices:
*3pm matinees are 50% off tickets for kids 17 and younger.