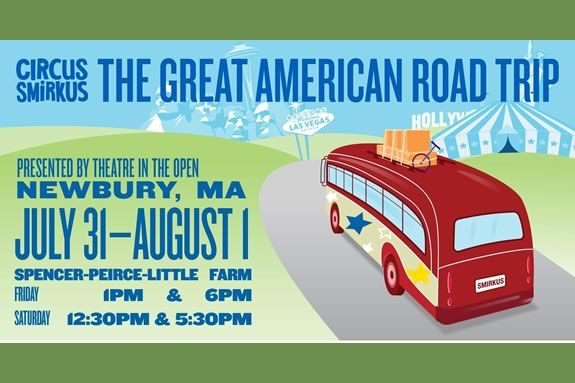 Hop on board for a coast-to-coast adventure of a lifetime with The Great American Road Trip! Join Circus Smirkus' jugglers, aerialists, clowns, and acrobats for a rollicking cross-country tour along the highways and byways of the good ol' USA. Get ready to visit the most famous landmarks, the most bizarre roadside attractions, and the most eclectic eateries on the map! Enjoy life in the fast lane as we hit the road for an unforgettable journey – with Smirkus at the wheel, what could possibly go wrong?
This year's Troupe is comprised of 30 hardworking and talented teenagers ages 12-18 who come from California, Colorado, Massachusetts, Maine, New Hampshire, New York, Pennsylvania, Rhode Island, Vermont, Washington, Canada and Zambia.
Circus Smirkus is a 501(c)3 Nonprofit Organization whose mission is to promote the skills, culture and traditions of the traveling circus, inspiring youth to engage in life-changing adventures in the circus arts. Tickets revenue from these events goes back into developing circus programming for The Big Top Tour, Smirkus Camp, & Ringmaster Residency programs.
Locally presented by Theater in the Open . Tickets go on sale May 1 at Cirkus Smirkus online.
When:
Friday July 31, 2020 1 & 6 pm
Saturday August 1, 2020 12:30 & 5:30 pm