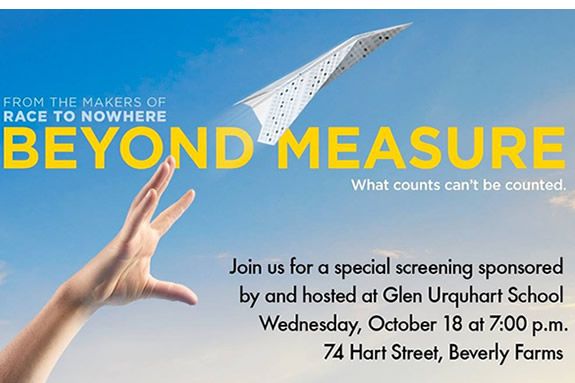 Glen Urquhart School, the independent, K-8 school in Beverly Farms, welcomes the community to a free screening of "Beyond Measure," the documentary follow-up to the award-winning "Race to Nowhere." The event will be held at the GUS campus, in the upper school, on Wednesday, October 18th at 7:00 p.m. "Beyond Measure" follows public schools across the country as they take matters into their own hands, innovating from the inside. By spotlighting success stories, "Beyond Measure" shows that it is possible to rise above America's toxic, and anxiety-provoking, achievement fixation and build a richer, more empowering, and student-centered education culture from the ground up.
Recently, after viewing "Beyond Measure," GUS Director of Upper School, Gretchen Forsyth revamped GUS "X-Block" multi-grade advisory classes to encourage student-led projects that feature issues and projects where students believe they can make a difference.
"What I loved about Beyond Measure is how the film shows multiple examples of schools, private and public, putting what we know about how students learn best into practice. Emphasizing creativity, collaboration, and real world problem solving makes the learning process engaging and relevant to students, increasing motivation and creating deep and meaningful experiences."
  —Gretchen Forsyth, Director of Upper School, Glen Urquhart School
Based on the book of the same name, "Beyond Measure" features notable figures, including Sir Ken Robinson (international education expert and presenter of the most watched TED talk of all time), Linda Darling-Hammond (education advisor for President Obama's 2008 campaign), and bestselling author Daniel Pink (Drive and A Whole New Mind).
"…'Beyond Measure' is a road map for communities looking to put true learning at the forefront of their school experience. It demonstrates what students, educators and parents can achieve when they look beyond merely improving upon an outdated model of instruction to creating dynamic learning environments where every student can thrive."
-Timothy Quinn, Former President, Princeton Board of Education
When:
Wednesday, October 18, 2017 at 7:00 p.m.