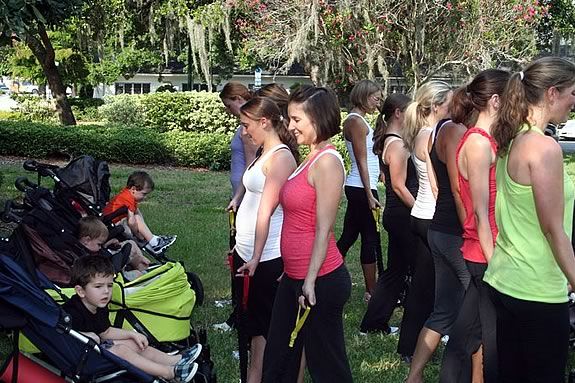 Baby Boot Camp stroller-based fitness classes are designed specifically to help moms get fit. It takes the place of a personal trainer at a time in your life when you need one more than ever. Classes combine strength-training exercises with cardiovascular drills. Pilates, yoga and abdominal exercises help improve core strength. The stroller, resistance tubes (and even your child!) are used as an integral part of the workout. Come try it - the first class is always FREE! 
For Stroller aged children and their moms.
Instructor Melissa Smith has been working in the fitness field since 1999. As a health and fitness enthusiast, she completed college degrees in both Physical Education and Nursing.  She is an ACE-certified personal trainer, as well as a certified pre-/postnatal fitness specialist through Prepared Childbirth Educators.  Baby Boot Camp has become a great way for her to utilize her specialized training and help mothers of all ages and abilities to reach their fitness and wellness goals.
In addition to teaching Baby Boot Camp classes, Melissa works as a pediatric nurse.  She also enjoys running road races, and has completed several half- and full marathons.
When:
Tuesdays, Thursdays, Saturdays 9-10am