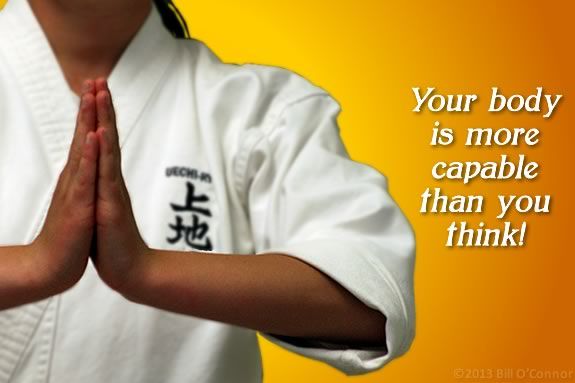 How are you doing with your new years resolutions?  Most of us make resolutions that have to do with health or improving ourselves on some personal level, and Gloucester Uechi Karate Academy may be the perfect channel for reaching your goals! Are you looking to build your self-confidence? Lose Weight? Become stronger? Work on your spirit? Improve your mind? Practicing the martial arts can help you achieve your goals and more by teaching you a way to connect your mind, your body and your spirit.
At Gloucester Uechi Karate Academy you will find yourself in a supportive environment, surrounded by positive students and staff that are just as eager to teach as they are to learn. You will learn about physical health, improve your mind and develop a sense of well being through training in the martial art of Uechi Ryu Karate - a traditional Okinawan style. You will develop physical strength, balance and coordination.  You'll learn a series of exercises that will help you maintain your weight or lose fat and build muscle if practiced regularly. You will go at your own pace, and have realistic goals laid out for you.  Most of all, you will have fun!
If you're ready to give it a try, now is the time to act because Gloucester Uechi Karate Academy is offering a introductory seminar to get you started!  For $29.95, you will receive a karate uniform included with this class. Come give the martial arts a try! What you learn in this session may change your life forever!
Open to many and women over the age of 18.
All fitness levels welcome.
Contact the school at 978.282.0629, drop by in person or email for more information.
When:
Monday, February 12, 2018 6:30-8pm