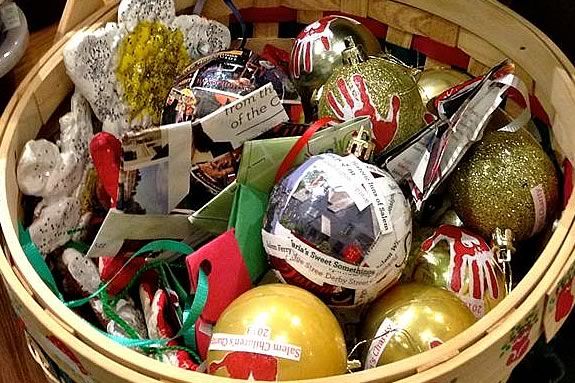 The 20th Annual Salem Children's Charity Annual Holiday Fundraiser and Christmas Party at Victoria Station will be held on December 10, 2013. This years event features a Silent Auction, Live Auction and Raffles with fabulous items to bid on including sports collectibles and celebrity collectables. All proceeds go directly to meeting the basic and often emergency needs of Salem's school children.
Back in 1994 a small group of friends sat in a local restaurant sharing their disappointment with the commercialization of Christmas, with each person wondering what they could do to make a difference in the lives of needy people in their own community. From that little group sprung an idea: Salem school children could create paper ornaments and restaurant and bar patrons could purchase the ornaments to decorate... and 100% of the money earned from selling the ornaments could go directly to needy children and their families in Salem. After that evening one of the people in the group approached the then principal of Salem's Carlton School, Charlie Walsh, who joined them, with the rest becoming a genuine Christmas Story...the founding of the Salem Children's Charity.
To make an online donation or to learn more about Salem Children's Charity, please visit www.salemchildrenscharity.org.
When:
Tuesday, December 10, 2013 5-8pm
Prices:
$15 per person includes buffet