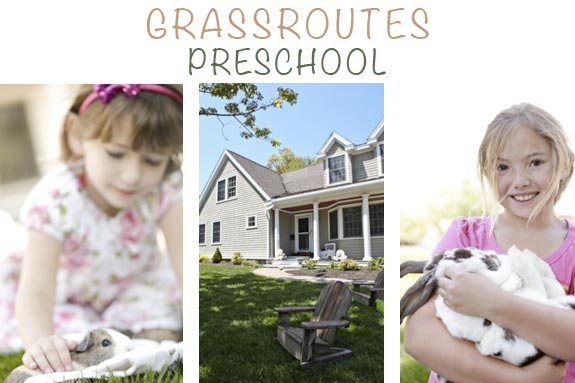 Grassroutes Preschool is an educational program offering a learn-through-play curriculum for the children of the North Shore.
With four play areas inside and a very large play area outside, Grassroutes offers a plethora of materials, activities, and opportunities for curious learners to explore, discover, and most importantly, play. A technology free preschool, our animals, gardens, cooking, and outdoor exploration are all germane to the Grassroute's experience.
Grassroutes preschool opened its doors in 2012 as an alternative to traditional preschools. Now open in Essex, Grassroutes embraces a learn through outdoor play, with an emphasis on inquiry based learning. There is no such thing as bad weather here at Grassroutes. We are outside everyday, as much as possible, using nature as our toys. Our small classes are immersed in nature, imagination, and creativity - and most importantly no technology.
We know how hectic your life is as a parent and we are here to help.  The preschool runs from 8:30 to 12:00, but you tell us what you need? We have had students come for one morning a week and others that have been here 8:00 to 5:00 everyday. Student ages have run from 6 months to 5 years. Grassroots is open year round, including most holidays and public school breaks. Tuition is $10 an hour and is paid at the beginning of each month.
Founder Jan Albertazzi holds a Masters in Early Education from Lesley University and is a licensed teacher for the commonwealth of Massachusetts. Jan also holds a JD from Suffolk Law and is a proud mom of three.
Location
Grassroutes Preschool
Essex,
MA
01966
Coordinates: 42° 39' 35.7696" N, 70° 37' 2.172" W