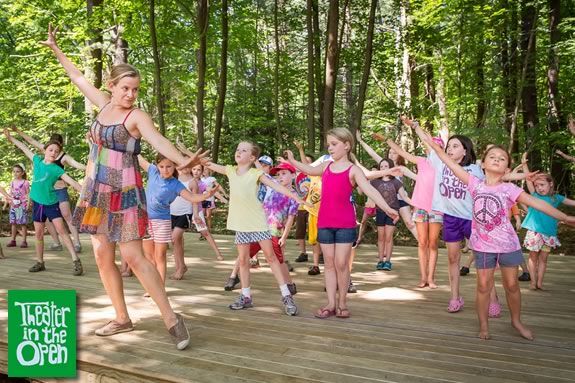 Theater in the Open hosts their Summer Arts Workshop is a fun-filled, out-door, adventurous way to learn and grow at Maudslay State Park in Newburyport. It is a place where young people have the opportunity to be creative and build lasting relationships with their peers in a safe, non-competitive environment designed for personal and artistic growth. Our professional staff of artists and educators is dedicated to providing our students with a positive, creative, artistic experience.
Theater in the Open's Summer Arts Workshop offers choices for a wide range of students:
Workshop 5
For your five-year-old artists we offer a thoughtful introduction to our Theater Arts Workshop. Workshop 5 has limited enrollment, a shorter day and a focus on art and collaborative group games. Our youngest students will have the campus to themselves for a week of engagement with nature, art and each other.
5 Year Olds Only
June 24-28, 2019
9am-12pm
Theater Arts Workshop
Hands-on and enriching, this outdoor summer program includes daily classes in acting, improvisation, dance and visual art. It's two weeks of pure fun, where students are free to explore their imaginations, build communication skills and explore nature. Our professional staff of artists and educators creates a supportive and non-competitive environment that fosters both personal and artistic growth. On the final day of each session, at 1pm, family and friends are invited to Share Day to see what students have been learning.
Ages 6-12
Duration: 2 Weeks
Session Dates:

Session 1: July 1-12, 2019
Session 2: July 15 - 26, 2019
Session 3: July 29 - August 9, 2019
Session 4: August 12 - August 23, 2019

9am-2pm
PERFORMANCE ONE | Teen Performance & Teen Intensive
For students interested in more of a performance challenge, we offer 4-week classes for distinct age ranges. Participants will be involved in the complete process of developing a full-scale production — from auditions, to set building, to show opening. They will also receive daily instruction in dance and visual arts.  Teen Intensive, taught by Artistic Director, Edward Speck, is an deeper process of exploration and development, tackling challenging content rooted in physical theater methods. Students will focus on process rather than product, with a performance that reflects the students' personal growth and skill development. Family and friends of all performance students will be invited to a special "Festival of Student Work" on July 28 (rain date, July 29). 
Performance One

Ages 9-12
July 1-26, 2019 (Performance July 27)
9am-2pm

Teen Performance

Ages 13-16
July 1-26, 2019 (Performance July 27)
9am-2pm

Teen Intensive
EXPLORING LITERATURE | Drama & Movement
Exploring Shakespeare is a unique opportunity to study the foundations that must be laid when adapting Shakespeare's work to the stage. Across these two weeks, students will approach and interpret text as performance artists, visual artists and collaborative artists.
This year's "Exploring Movement" curriculum has been developed in partnership with The Dance Place. This exciting program is part physical theater, part dance and part storytelling class. Students will learn to collaborate through expressive movement while exploring classical stories. 
Exploring Shakespeare

Ages 12-15
July 29 - August 9, 2019
9am-2pm

Exploring Movement

Ages 12-15
August 12-23, 2019
9am-2pm
Adventures in the Open | Extended Day Program
For those who would like to enjoy our campus and Maudslay State Park for a longer day, we are introducing an Extended Day Program. This class will run in weekly blocks, every afternoon and will be led by our experienced teaching staff. They will lead students throughout Maudslay for less structured — but no less fun — adventures. Students will also play active, cooperative games and do portable art projects while learning more about nature. Workshop students who stay for this class should pack a second snack.  

Ages 6-15
Duration: 1 Week Blocks
2-5pm
Available Weekly, July 1 - August 23

Please note: This program does not replace our drop-in aftercare program, which will continue to be available. 
ARTSED
This program is designed for students who discover a passion for arts education. ArtsEd students will begin learning, in a hands-on way, how art, dance and theater can be employed to provide a positive and safe environment for creative expression and individual growth. This program also includes time spent each day discussing pedagogy with head teachers and program directors. To ensure a rewarding learning experience, this program has a limited enrollment and applicants will be selected by the Workshop Director. 
Ages 13-14
Duration: 4 Weeks
8am-2:30pm
July 1-26, 2019
Early & Aftercare
Early/Aftercare is available mornings from 8am-9am and afternoons from 2pm-5pm for an additional fee of $12/hour. Participation can be arranged as needed on a day-to-day basis. Please note, we also have a new Adventures in the Open class that weekly meets from 2 - 5pm. This program offers more enrichment opportunities for those students who would like a longer day with their TITO friends.  
*On Share Days at the end of each session, there is no drop-in Aftercare option.
Scholarships | apply
Limited scholarships are available for qualified families.  In order to help as many families as possible, Theater in the Open commonly awards partial scholarships. Contact scholarships@theaterintheopen.org for more information.
Tuition:
Workshop 5: $245 [1 week]
Theater Arts Workshop: $495/505 per two-week session
Performance One: $950 [4 week session]
Teen Performance: $950 [4 week session]
Teen Exploring Literature, Art & Drama: $495 [2 week session]
Adventures in the Open: $150/Week