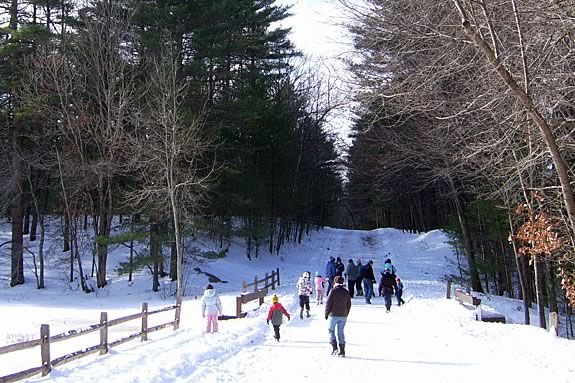 Walk the trails with a group at Harold Parker State Forest every Wednesday at 10:00 a.m. – meet at the headquarters at 305 Middleton Rd., North Andover.
This is a moderately paced walk appropriate for all ages. Tips and guidlines for this walk:
Wear comfortable walking footwear, preferably hiking footwear.  Sneakers are not recommended.
Feel free to bring snowshoes/skis on days with snow.  
Please wear appropriate attire for the weather. 
Water and trail snacks are recommended, especially if you are bringing children.
Cancelled only in the event of heavy rain/snow.
If you are not sure about weather conditions or have any other questions please call ahead.
This community hike began during the fall of 2009 and continued through the winter. We are planning the same for this year and will cover all the trails in the park.