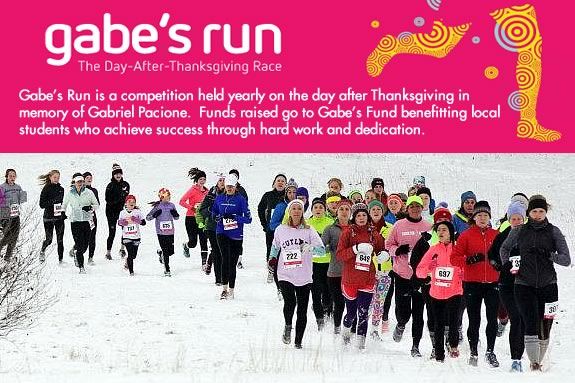 Gabes Run is unabridged in 2016! The Pacione family is facing other challenges this year that will not allow them to produce a formal race for Gabe's Run the day after Thanksgiving.  Hoping to keep the event alive and well for future years, and on the suggestion of their youngest son, the Paciones are inviting people to show up the day after Thanksgiving and race sans the typical race framework and fanfare. 
In August 2008, Gabriel Pacione's life was cut short by a tragic accident. Gabe had many aspirations, and was days away from realizing his dream of joining a world-class academic community at Dartmouth College, where he would further his passion for learning and athletic competition at the highest collegiate level.
The family and friends of Gabe Pacione have created this Memorial Scholarship Fund in his name to recognize high school seniors who have achieved success through hard work and dedication, and endeavored to share their enthusiasm by encouraging the pursuit of excellence by others. These are traits that Gabe admired.
Since 2009, Gabe's Fund has awarded more than  $60,000 in scholarships to college bound seniors nominated from Hamilton Wenham Regional High School and the high schools of the Cape Ann League. Gabe's Fund acknowledges students who stretch themselves, reach for higher levels of accomplishment, and share the success of their achievements by encouraging and inspiring others .
These scholarships are funded by generous contributions to Gabe's Fund and proceeds from Gabe's Run, the annual reunion run, held on the day after Thanksgiving in Hamilton, MA.
100% of your contribution goes to the scholarship programs.
When:
Friday after Thanksgiving